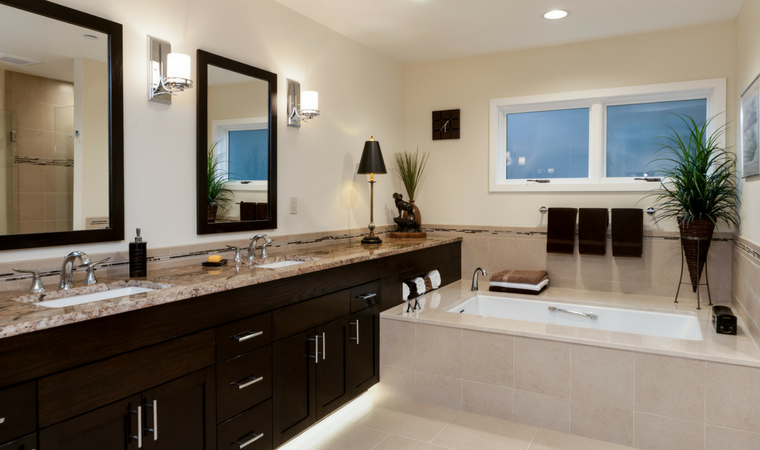 Heated Tile Makes Toes and Towels Happy
It's not uncommon to have a client request heated tile in their bathrooms; especially ideal in the cold winter months. Kathie, a recent client however, also requested heated towel shelves in her new master bathroom remodel.
Radiant heated tile flooring is a fairly effective heating system, especially in small spaces. Radiant heat, also called under floor heating, is typically accomplished by taking heat cords laid atop plywood flooring, and then covered in thin-set with the selected tile laid on top. In Kathie's case, she also wanted the area where her bath towels would be stored to be heated as well so that when she pulled out a fresh towel after the shower they would be warm and toasty. This was a relatively simple ask since much of her bathroom design called for tile.
One key element to heated tile we recommend is to have a thermostat with a timer that allows you to set the on-and-off times for the heat, much like many home heating systems, since it can take up to an hour to fully heat up when used on-demand. That way, if you're typically up at 6 am each morning, you'd set your radiant heating to start up at 5:30 am so that your toes and towels would be nice and toasty upon entering your bathroom.
A few points to note: while radiant flooring can work under many types of materials, our suggestion would be to choose stone, concrete and ceramic tile as they're more heat sensitive and will retain, withstand and conduct heat best. Solid wood floors, while possible to use, are undesirable as they'll expand and contract with temperatures leading to seams and changes within the flooring system. Vinyl, laminate and carpet are also undesirable floor materials for this purpose.
Radiant Heating Pros:
Consistent, cost effective heating solution
Can heat a room at a lower temperature than traditional heating methods
Systems can last a long time
It's quiet. There's no furnace to start up and blow air.
Radiant Heating Cons:
If there's a short in the wire, much of the tile flooring must be taken up to trouble-shoot and fix.
Depending on the version that you desire (hydronic vs. electric), the initial cost impact can be significant.
Hydronic heating systems are very hard to install in existing spaces, hence we install electronic versions most often in client homes.
Typically slow-heat systems, they require time to warm up and are not recommended as an on-demand heat source.
If you're considering an addition to your home and radiant heating is of interest. Let's chat, you may have more cost-effective options in a net-new space.