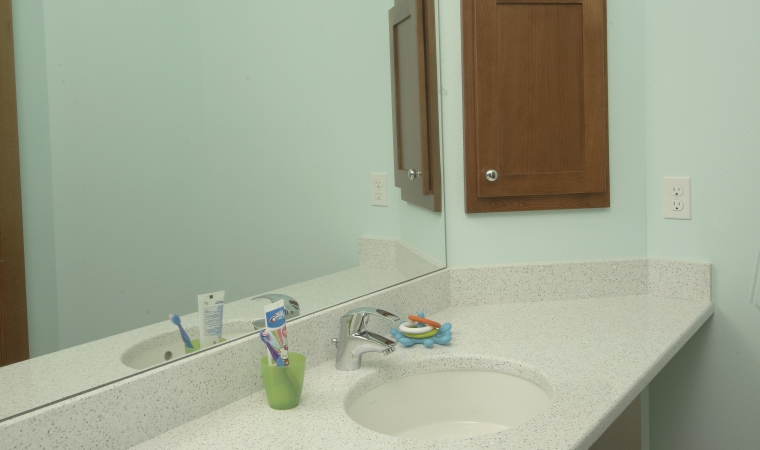 Age Makes a Difference in a Kid's Bathroom Remodel
Many clients seek to remodel their children's bathroom, but don't know if they should be viewing the space differently from their own. Sales Manager Mark Jensen's first recommendation is to use maintenance-free or low-maintenance materials. Kids are messy by nature and when little may be full of precociousness and sticky fingers. We've outlined specific suggestions based on age and then more general recommendations that span our teenage clientele.
From Birth to Tween: A remodel should contain a bathtub for children of this age bracket. We recommend a one-piece laminate surround or tile with epoxy grout. Flooring should be vinyl or a laminate for minimal wear and tear, or for a higher-end finish, choose an attractive tile with epoxy grout. If you choose the tile option, epoxy grout is tougher to work with and is more expensive, but ultimately, doesn't stain or require sealing – great for kids spaces. We also love cabinets with open space below them, perfect for storing a small stool and a laundry basket. Do not install a vessel sink for kids, they don't have overflow protectors which can lead to quite a problem if little hands turn on the water and then get distracted. Waterfall anyone? We also recommend two faucets, one hot, one cold, for small children. They understand hot and cold, whereas one lever does not make sense to little minds. Choose a shower curtain with a curved rod in lieu of a glass door because it's easiest for parent access when bathing. One last tip for this age bracket is to use a toilet with a self-closing lid, so that errant toys cannot "swim" or be flushed down the toilet.
Tween to Teenagers: Lighting is key for the tween and teenager market. It needs to be adequate for putting on make-up, tweezing eyebrows and evaluating one's skin. Ensure there's plenty of storage area as tweens and teens are unlikely to share space well, instead they'll need their own space to store grooming items. Keep storage close, especially the TP, since kids commonly forget to replace the roll once it's out.
General Advice:
Lights: Our clients that have chosen to install a motion sensor light in their children's bathroom have not been sorry. This allows the light to go on when someone is in the room, but reduces the instance that you have to follow your child around turning off lights behind them.
Fan Timer: Kids are notorious for forgetting to turn the fan on and off in the bathroom. Since moisture damage is common in bathrooms without adequate ventilation, a fan timer for turning on the fan at common bathing times and can remain on for a pre-set period of time for ensuring moisture reduction after a shower or bath.
Countertop Height: When working with little people, there's a desire to keep your countertops lower at 30 or 33 inches high, rather than the more common 36 inches. It's all a matter of preference, although a stool is a good interim tool.
Toilet: Choose one-button flush system vs. a dual-flush to lessen confusion and the standard toilet is preferred in comparison to the comfort-height. It's easy to change out a toilet later to a taller version should height really become an issue.
Medicine and Cleaning Supply Storage: A kids bathroom is not the area to store medicine or cleaning supplies – leave those for other locations in the house and you'll worry less about what your kids are up to.
Towel Bars: Firmly fasten towel bars and rings into studs and not just drywall. Kids are rough and pull on these more than one might imagine. Consider hooks for towels, as they're much easier for children to hang up their towels on their own.
Sinks: Two sinks are only recommended if your space allows for it. Most kids are not going to be in the bathroom at the same time, so one sink is likely to be sufficient.
Temperature Control Valve: Putting a temperature control valve onto a specific shower valve can cost a bit more, but is great if you're really concerned about temperature-related accidents.
One more important piece of advice that Mark offers – regardless of your child's age, don't make your space too young or specific. Using Sponge Bob Square Pants tile may seem neat at the time, but children quickly outgrow their favorite characters and you want to remodel for the long-term. Instead, use shower curtains, towels, bath toys and even paint to give your child's bathroom the fun factor and leave the finishes more reserved. You'll be happiest in the long term.