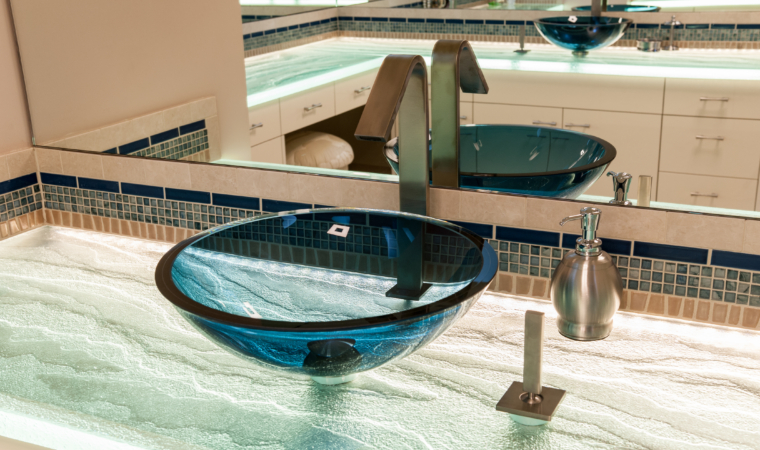 Bathing in Color
How often can you say that you know someone who can control the color of their countertops at the push of a button? We can! A recent client bathroom remodel in Clyde Hill gave us a lesson in the technical possibilities one can choose.
Return clients Dave and Rachel called and said they were ready to tackle the remodel of their large master bathroom. It had the original fixtures from when their home was built in the 70s, complete with carpeted flooring. A leak had sprung outside of the shower compromising the floor structure, pushing up the need to start the project sooner than later. The leak caused some initial challenges in that the damaged subfloor needed to be replaced. While addressing that,
structural changes were implemented that would allow for a curb-less shower design, preparing the room for wheel chair access in the future, should it be necessary.
Much of the design-phase was a negotiation for the couple – one was interested in the artistic elements of the design whereas the other was more budget focused. They found their compromise and were excited to see the finished product!
The water themed design was simply chosen because of Rachel's love of diving. A beautiful, but complicated tile pattern was the first element to be tackled in the remodel. Those tiny tile pieces are not sheets of tile; they were placed one at a time! The shower bench, beautifully unique was in the shape of a wave and tiled to match. Fit was critically important with ensuring the large glass panel in the shower contained the spray and retained the warmth generated by the heated wall and floor tile. Beautiful his and hers glass vessel sinks complemented the glass swirl countertops. The countertops, while under-lit with LED lights show blue or white as color options in our photos, but there are upwards of 10+ colors and are controllable by a remote! The deco floor tile gives the feeling of white caps and the tiled heating vent shows that no detail was overlooked! Custom glasswork was a show-piece outside the toilet alcove and can also change color with or separately from the countertops. To top off the technical prowess of this show-stopping space, the Duravit toilet seat is remote controlled and can be programmable and even has a nightlight for those late night bathroom runs. This beautiful bathroom took three months of construction in addition to the design and planning-time.
Want to see more of our bathroom projects? Click here.