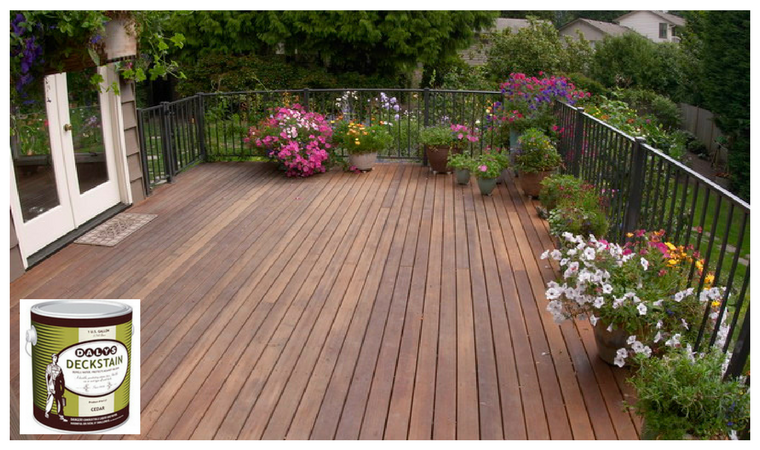 Bi-Annual Deck Maintenance – Strip, Wash, Stain!
Getting your deck ready for entertaining should be high on your priority list now. This winter's weather has us all thinking about sunshine and sipping a cold beverage on the deck this summer! As such, we have a favorite staff product that helps get the deck ready for action – Daly's Deck Wash. Selections Coordinator, Lynn Goodwin, has used it for over a decade to keep her deck looking sharp year after year. They've even used it on their painted gutters. Lynn and her husband use it every two years in conjunction with re-staining their deck. She really likes that it doesn't strip the wood or dry it out, yet it still gets dirt, mold and mildew off, and sometimes even some residual stain left over from the previous season. She finds it easy to apply, and while it's sold in two sizes, they opt for the gallon size over the quart, since they don't mind if there's a little left over.
According to Daly's website, to keep your deck in tip-top shape, they recommend that you first use a stripping agent to remove any old stain. Then, a wash product that will remove any mildew and dirt our climate tends to support. Finally, using a semi-transparent deck stain will make your deck look and feel brand new.
Lynn and Daly's recommend using it earlier in the season than later summer or early fall because the dew can sneak up on you, making your stain sticky or patchy. Plus, Daly's is quick to add that it's ideal if you can avoid applying a stain in direct sunlight, opting for a cool, overcast day, although one without rain in the forecast.
For additional product instructions, refer to Daly's website. If you're ready to try Daly's Deck Wash for yourself, you can find it in their Seattle or Bellevue retail locations or you may purchase it online. Want to talk to Lynn about her personal use of Daly's? Call her at the office!