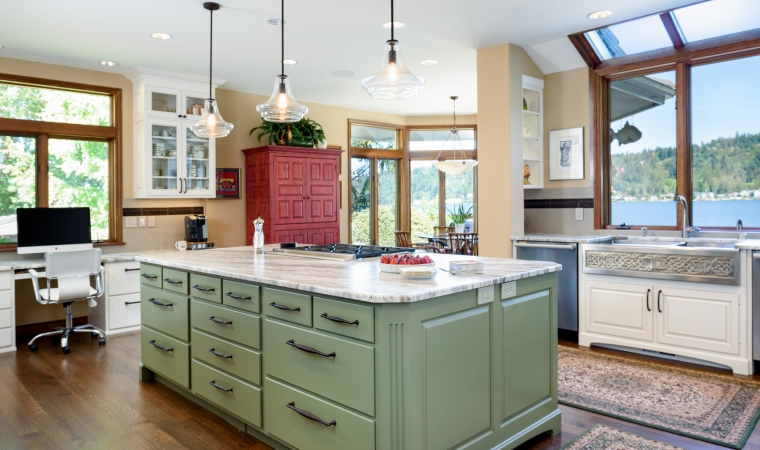 Big and Beautiful White Kitchen on Lake Sammamish
Deanna and Ren had a good size kitchen, but they were tired of the cabinets, the floor color, and a few drawers were in need of repair. They had at one time updated the countertops to granite since building their home in 1988, but were in need of a total remodel to bring it back to life. Plus, there had been so many advancements in kitchen products and design; they knew that their West Lake Sammamish home would only benefit from this update. Even more important, Deanna is an avid cook and wanted a refreshed space that was more updated and to her taste for entertaining her family and friends.
The remodeled kitchen stayed within the existing footprint with some improvements within the design. The tall cabinet to the left of the sink, previously blocked the view to the adjacent eat-in kitchen table. The new cabinet with open shelves, was perfect for featuring Deanna's collectables, and opened up the space along with leaving a more open sight line to the kitchen table. The new perimeter cabinets from Schrocks' of Walnut Creek featured a maple wood with a white glaze and pin-knife hinge with bronze knobs and pulls, while the contrasting island was painted in Benjamin Moore Galapagos Green with bronze pendants overhead.
The gorgeous solid surface countertop in quartzite featured Meta's Fantasy Brown. Instead of feeling smooth like most solid surface choices, this one has a texture, called a leather finish, and is best experienced when touched. The replaced business center helped to contain the clutter with deep file drawers and increased storage capacity and allowed Deanna and Ren to implement a coffee station since the design contained a newly added wall cabinet for coffee cups and saucers. Deanna enjoys her new-found ability to easily grab a quick cup of coffee while paying bills and filing papers. The black kitchen appliances were replaced by stainless steel alternatives including two dishwashers in the new design, ideal for this party-throwing family. The new cooking system contained a 30 inch warming drawer, a 36 inch Wolf gas range with a rear downdraft system, so that sight wouldn't be impaired over the island and double-ovens. Two Sub Zero 30 inch refrigerators replaced the existing dated versions and were concealed by white-painted cabinet panels so that they would blend with the rest of the kitchen.
The new pantry was reworked to remove the extra refrigerator space as it wasn't necessary, but included new pantry lights, a new large standing freezer and reorganized with utensil storage to the right side and food storage to the left to best support how Deanna used the space. The lighting system throughout the kitchen was upgraded to include Lutron switches and plate covers that match both the island and wall paint respectively. This project featured some key kitchen features that you don't find in just any kitchen – this couple chose a gorgeous custom Ferguson farm sink with a decorative apron front and an Apollo Ash Natural tile with a Florida Art metal decorative strip in it. Glass inset top cabinets featured Deanna's favorite dishes. Small organizational touches such as cookie sheet organizers, utensil dividers and deep drawers for pot storage made a big difference in making Deanna's kitchen feel organized and complete.
Deanna and Ren are thrilled with the results – their space is now reflective of their taste and love of entertaining.
See more photos of the project in our portfolio.