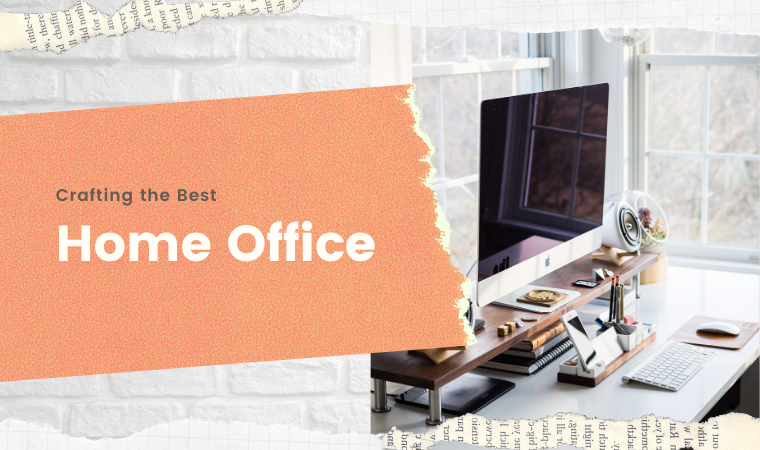 Crafting the Best Home Office
There's more people than ever working from home right now. While we're all doing our best to be as productive as possible, trying to work at the dining room table, or on the sofa is hard. Below are the top design elements we recommend to make an efficient home office:
Find the sweet spot.  Putting your desk in the prime spot for your needs, either facing the entrance to the room or in the location that will allow for best communication with clients.
Address all your needs. Depending on your profession, one desk may not sufficiently meet all your needs. If there's a physical component to your work, you may need a traditional work space with a computer and printer, and then an area where you can produce your product.
Take advantage of a view. Not everyone has an amazing view to utilize, but even the smallest garden, or greenery can really improve a work environment. Is your office space in an interior area without a window? Find a lovely photo, piece of art or calendar that will give you that view when you need it.
Find Your Zen. While finding a quiet area for your home office is ideal, using a white noise machine or other sound insulator can help other household noise blend into the background.
Select a Good Chair. Sore buns or back is not going to have you at your peak of productivity. Instead, a comfortable chair may be the most important tool you have.
Closeable Door. If at all possible, utilize a space that can be closed off from the rest of the house . Setting up in a home work space in a central area may work in a pinch, or may be a solution for managing occasional household business. For a well-functioning space that you intend to use regularly, having a dedicated space with a door you can close is ideal.
Sufficient Storage. Have a spot for the things you need on a daily basis. like pens, paper, file folders, extra printer paper, etc.. Ideally they are easily accessible, but also can be put away so that chaos and clutter doesn't reign.
Outlets and USB Connections. There are several outlets on the market that combine both a traditional outlet with a USB connection. Some outlets can be expanded to increase the capacity of items plugged into them, giving you the ultimate flexibility. We always recommend having an outlet and electrical system evaluated by a licensed electrician to be sure your system is appropriately wired. Even so, an appropriate router, surge protector and printer will make your work life so much better.
Light it Up. If natural light is an option for you, embrace it! If not, make sure overhead light or a nearby lamp can provide you sufficient light. Darkness will just make you sleepy and less productive, especially without any coworkers stopping in for a quick chat.
Watch Your Back. If you're often on video conference calls or webinars, it will be important to ensure what's behind you is attractive and thought out also. Everyone you interact with be looking at your decor choices and set-up whether you realize it or not.
Working from home can be a wonderful opportunity and break from the status quo. Creating a well-designed home office is important to maintaining efficiency and being successful.