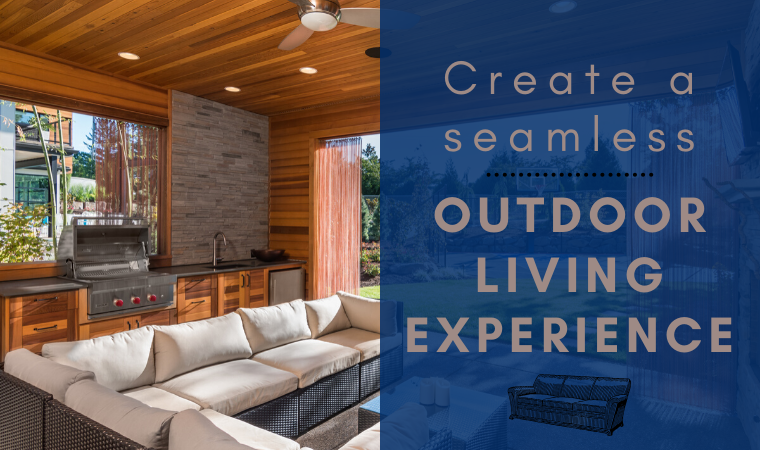 Create a Seamless Outdoor Living Experience
Outdoor spaces are lifelines at the moment. While in our area we get more rain than in other locales, that shouldn't keep you from creating an indoor/outdoor living space that will allow your family to maximize total living space.
Replacing a traditional single door leading to the outdoor living space with retractable doors or windows, or with French doors, are the best ways to make the space feel open.
A covered outdoor patio is ideal for enjoying the outdoors regardless of the weather. On rainy days, you're protected and on hot days there's shade. Many of our clients choose to have a covered patio that includes skylights and ceiling heaters in their design for optimal year-round comfort.
Outdoor kitchens are great for those that like to cook but still be with their family or friends. Many of our clients opt to include a built-in barbecue with burner, refrigeration unit, small sink, garbage and storage drawers, along with other accessories.
Prepare for weather by purchasing outdoor furniture and cushions that are made for withstanding rain and sun, while providing optimal comfort and fit your entertaining style.
Opt for an attractive gas fireplace to complement your outdoor living space. Not only does it provide heat, it also serves as a beautiful design focal point.
No outdoor living space is complete without a comprehensive lighting plan that highlights garden features while ensuring that lifestyle preferences are accounted for and outdoor potential is maximized.
Finally, consider integrating a sound system into your design. While there are Bluetooth speakers that will work with your phone, it would be a shame of have to place a moveable speaker into a well-designed space. Instead, built-in speakers can play your preferred music without messing with your decor.
No matter what your design includes, be sure to opt for a look that complements your existing home style while maximizing the current and future potential of your home.
See some of the outdoor living spaces we've completed for clients.