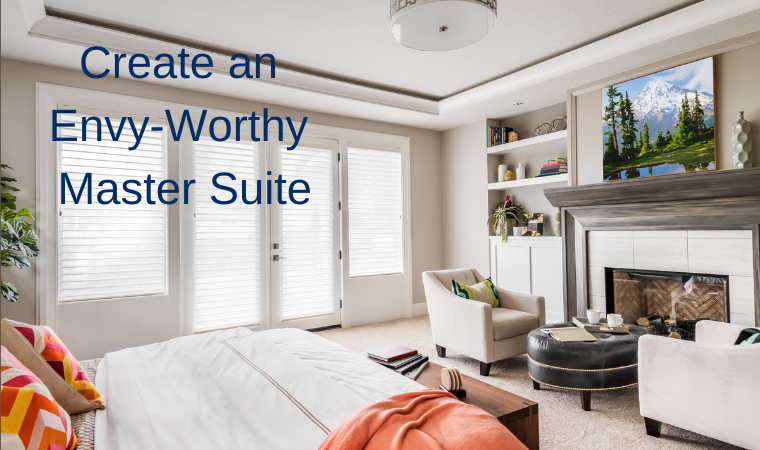 Create an Envy-Worthy Master Suite
Most of us wouldn't turn down a beautiful master suite. However, if given the opportunity to design one, it could be hard to decide what elements to include and what to pass on. It might be helpful to create a list to determine how you use your space today, reflecting what works well and what does not, and then create your wish list from there. Here are some things to consider:
Organized closet. While size does matter for most of us, organization is key to creating a closet situation that allows a master suite to be sweet. We are always working with our clients to create storage solutions in all spaces that work for their personal situations, but the master bedroom closet organization is doubly important. If space allows, individual closets are preferred for partners. We also recommend using your closet space as a buffer zone from the rest of your house in order to create a natural sound barrier.
Seating Area. Your master suite can be a true retreat if you have a cozy seating area for relaxing or reading a book away from the rest of your family members. Many clients have included comfy chairs, sofas, or chaise lounges when space has allowed.
Built-ins. Avid readers or collectors will appreciate built-in shelves for storage. Not only do built-ins look nice, but they provide a dedicated place to display your favorite items.
Fireplace. The ultimate in luxury is having a fireplace in your master suite. Being constantly cold is no fun, especially when settling into bed at the end of the day. A double-sided fireplace (one side facing the bedroom, the other the bathroom) is a client favorite. No more being cold when getting in and out of the shower in the morning.
Comfy Bedding. Plush linens are a lovely addition to a master suite. We especially love a layered look that can be perfect for differing temperatures.
Private Patio. Start or end each day on your own private patio or balcony with a cup of tea, glass of wine or just a breath of fresh air. Ideally this private oasis would provide a beautiful view of your backyard, some nearby mountains, or a lake. It doesn't have to be large to be enjoyed.
Technology. This can vary greatly based on your tech preferences. TVs, speakers, heated towel warmers and/or tile are great ways to create a relaxing, cozy environment both in the bedroom and bathroom.
While it can be fun to design an open concept bathroom space, we recommend our clients include doors in their designs. This way if one person is an early riser while the other prefers to sleep it doesn't lead to discord in the relationship, and it keeps moisture and odors out of the bedroom.