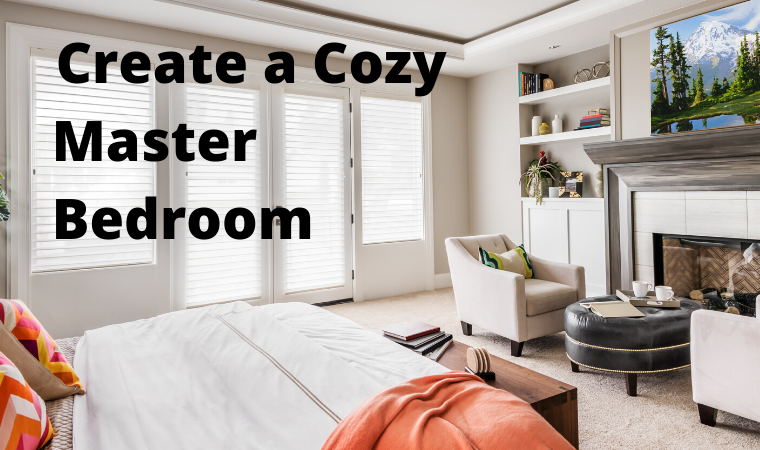 Creating a Cozy Master Bedroom
The Danish practice Hygge this time of year. Hygge (pronounced hue-gah) is loosely translated to the concept of cozy contentment. While we don't live in Denmark, the idea of slowing down and getting cozy, especially after a busy holiday season when the weather outside leaves much to be desired, sounds amazing. One of the easiest places to transform and settle in is the master bedroom.  If you're wondering what things you can do to make your master bedroom cozy, here are our suggestions:
Flannel Sheets – if getting into a cold bed is an issue for you, flannel sheets can help keep you warm and the cold at bay.
Throw blanket – not only is it an attractive layering aesthetic for your bed, it's an easy way to get cozy mid-day without completely messing up your sheets.
Black-out blinds – if mid-day naps are part of your cozy dreams, invest in quality black-out blinds so that sleep can happen.
Curtains – nothing makes a bedroom less desirable than drafty windows. Curtains can help keep the cold out and provide sound insulation for where you want it most.
Comfy chair or chaise lounge – if your master bedroom has the space to accommodate a great chair or lounge space, we highly recommend including one so that relaxing doesn't only happen on one's bed.
Built-in bookshelf – there's something about book-filled shelves that just make you want to sit down and settle in. If you have space in your master for built-in shelving, we recommend it.
Fireplace – doesn't a fireplace in a master bedroom sound lovely? A gas version can create warmth on demand, with a minimum of fuss.
Candles – the flickering light is calming and helps to create a welcoming space.
Soft lighting – a dimmer switch or lamps can set the stage for a cozy place to read, instead of sitting under a glaring light. Especially at night, the right low light can help your body start to produce melatonin, getting you ready for sleep naturally.
A good book – drop the tablet, TV, or computer in lieu of a good old fashioned paperback. Dig in to something you've been dying to read and relax!
Warm beverage – not only do you need a warm beverage to create the coziest of spaces, but you need a table and coaster on which to place it. Stock up on your favorite tea and if you don't have the perfect bedside table, start your search.
Don't let your master bedroom be the last place you address in your home. Yes, it's not something most guests will see, so it doesn't often top the list of places clients want to remodel, but it's a place just for you, prioritize it. See one of our master suite remodels here.