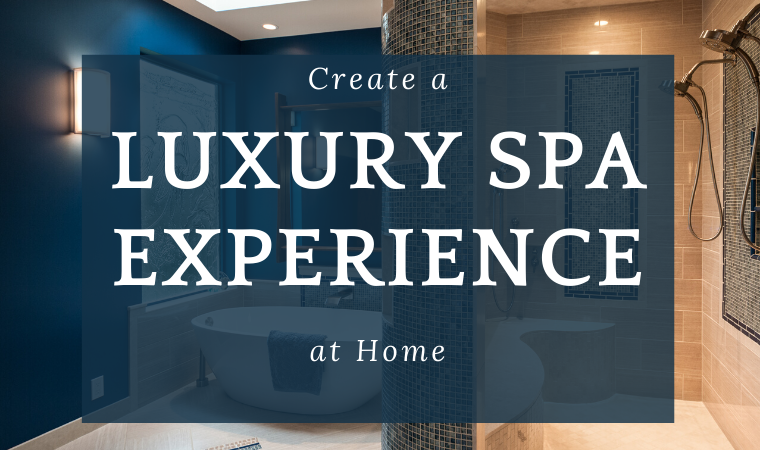 Create a Luxury Spa at Home
While the bathroom seems purely functional, the typical American spends more than 30 minutes in this room each day. Over the last several years, we've found that more clients want to include some spa-like features in their bathroom remodeling projects, both for resale purposes as well as to increase the enjoyment of this oft-used space. The most popular features clients select are:
Heated Tile – If freezing feet is an issue for you, heated tile may be your ideal solution. There are even options to set timers to turn on each day in advance of your typical shower time.
Fireplace – What is more decadent than flipping a switch to turn on your gas fireplace to warm up your custom bathroom?
Heated Towels – If you're noticing a trend of wanting warmth in the bathroom, you're right! Heated towels can be achieved via a heated tile towel alcove or a traditional heated towel rack. Either will ensure you stay warm and cozy after a shower.
Soaking Tub – The ultimate comfort in your own home, jetted soaking tubs are a top contender on our client's master bathroom remodel wish lists. Current models are more attractive than ever.
Wet Room – A fast-growing trend over the last few years, wet rooms are fully tiled areas that typically contain both a tub and a shower where water is collected and removed via a carefully placed floor drain.
Mood Lighting – Dimmable lights are the number one request in this category. There are also options to have lights in various colors if that is your preference.
In-Room Speakers – Music is great for relaxing or getting pumped up for a busy day. Including speakers is a lovely way to complete a luxury bathroom.
Seating – Either built-in or removable, depending on the space available, having the option of a seat or bench in the shower is always desirable.
Dual Showerhead – Previously only found at luxury hotels, more and more homeowners are requesting a dual shower head containing a rain showerhead, along with a hand-held one, for their master bathroom remodel.
Body Sprays – Usually installed with four or six sprayers, shower body sprayers can be a real treat, providing a massage-like experience in the comfort of your personal shower. If you have disparate heights in users, make sure the shower heads are adjustable to appropriate levels.
Steam Shower – Just ten minutes in a steam shower can relax tense and aching muscles, and clear congested lungs and sinuses.
Clients should think of their bathroom remodel as an opportunity to provide themselves a space that will provide mental and physical relaxation after a long day or workout, or just a lovely way to begin the day. An important point to note: the size and location of your water tank is always a consideration when implementing a new element.
Remember, what constitutes a luxury spa experience depends on the person. Which features would you include in your in-home spa?