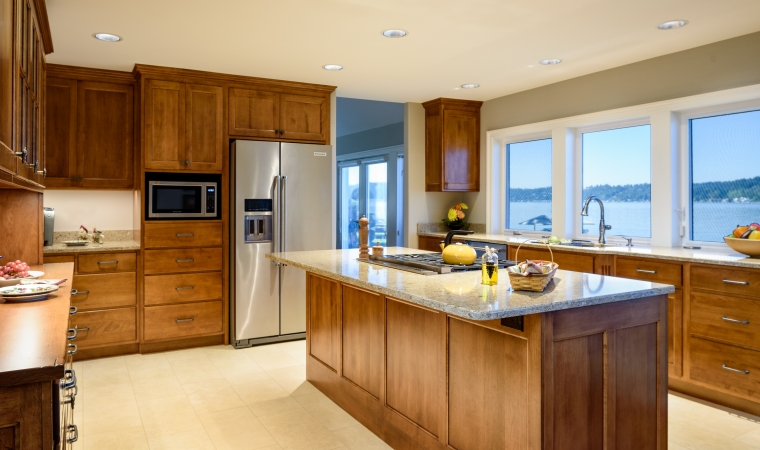 Creating Function in a Warm Sammamish Kitchen
These days, white kitchens are a common request, so it was fun to do something a little warmer. A recent client was interested in redoing his kitchen to capture more of his view of Lake Sammamish and make the kitchen better suited to his needs. Lane had redone much of his Sammamish house but had waited on remodeling the kitchen until he'd found the right design-build firm. After being introduced to McAdams Remodeling & Design by a friend and former McAdams client, he was ready to begin his project.
The Newly Remodeled Kitchen
His pain points with the existing space were the dysfunctional layout, the fact that it wasn't situated to capture his view and ultimately wasn't customized for his cooking style. The existing kitchen design also contained an area for an eat-in kitchen table, but there was a dining room adjacent to the kitchen, making the eat-in space unnecessary. There was no pantry, and more general storage was desired. The kitchen connected to a living room that had a large central cabinet, which Lane wanted replaced with a fireplace, but wanted to keep the associated side cabinets.
The New Buffet
Founder Len McAdams and designer Cindi Larson of Bassett Larsen Design created a kitchen and living room design that created the aesthetic and function Lane was seeking. Gone was the eat-in kitchen, replaced with Schrocks of Walnut Creek cabinetry and the kitchen sink so that whoever does the dishes has an incredible view. While that eliminated the floor to ceiling windows previously in that space, instead picture windows highlighted the gorgeous lake view. A beautiful quartz Berkeley Cambria counter-top topped the island, side counter and the sink cabinetry. The side cabinet was customized to contain a microwave and large Kitchenaid refrigerator, with room for a small coffee station on the counter. An adjoining buffet is perfect for appetizers and wine and we were able to reuse some of the grape handles from his previous kitchen, preserving the grape theme found throughout his home. One of Lane's favorite additions to his kitchen is the new pantry that was created in the design where he gained a majority of his storage space.
The New Fireplace
The adjoining family room now has a beautiful fireplace as the room's feature with the TV mounted above. The original cabinets marry up nicely to the newly created wall. Lane is now happily entertaining at every opportunity.