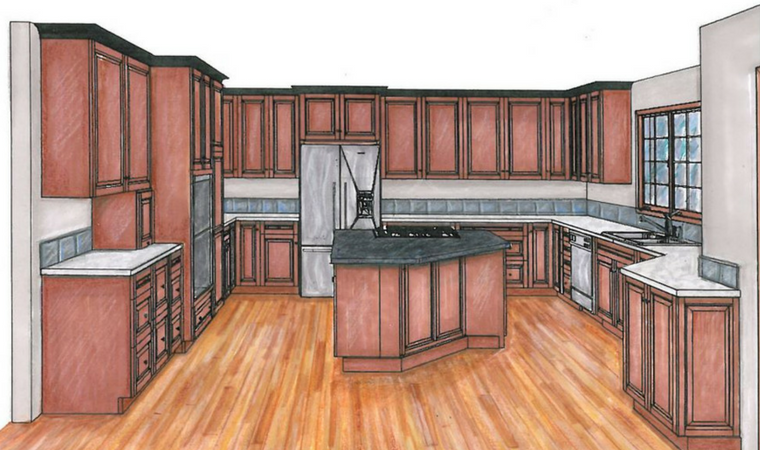 Creating a Gluten Free Zone in a Woodinville Kitchen Remodel
After finding us at the Remodeling Expo, recent clients Mark and Laurie approached us about a kitchen remodel with the primary purpose of increasing their kitchen storage capacity. Their current kitchen had lots of counter space but not a lot of useful cabinetry. A close secondary desire was to also create a space with two zones, one that would contain only gluten-free food products and kitchen appliances for Laurie and one that would house everything else. While Laurie didn't have a formal celiac disease diagnosis, she definitely was gluten sensitive and needed to be careful about certain food items. Mark and Laurie's kitchen had a small pantry that allowed for only minimal storage but took up a fair amount of space in the corner of their kitchen. In addition, their lovely Woodinville home was in a wooded area and the kitchen was at the back of their home, creating a very dark cooking experience. They needed more light! Their existing kitchen design contained a peninsula that affected the flow of movement between the kitchen and informal dining area. Then there were the existing materials, the tile countertops needed to go and an island without power outlets left them frustrated.
Sales Manager Mark Jensen and Clint Noyes from KC Fine Cabinetry collaborated to create the kitchen remodel that would fit Mark and Laurie's needs and be beautiful for years to come. One of the first design recommendations they made to the couple was to remove the corner pantry in favor of cabinets with a lazy susan for improved storage. They also determined that reorganizing a few of the major appliances would improve the kitchen's flow and efficiency. Originally intending to remove the island and cook top, the new plan instead included a larger island at an angle that mimicked the existing architecture in the kitchen for improved flow and function. The larger island includes the cook top, with improved downdraft venting, several power outlets, room for two bar stools and increased storage capacity while reducing potential construction costs associated with moving the cook vent. The sink, previously in an awkward angled counter, is now in front of the window that looks out to their lovely backyard and contains a built-in water filtration system. Mark and Laurie selected stainless steel appliances, Cherry cabinets, and a solid surface quartz countertop and requested refinished hardwood floors.
Laurie loves their new gluten free zone in their remodeled kitchen. Now she doesn't have to worry about accidental gluten exposure when Mark creates his favorite sandwich; they each have their own storage space (much easier to reach for 5 ft, 3 in Laurie!) and prep space. Mark, the engineer in the family, really appreciates the improved kitchen efficiency the new design offers; no longer are he and Laurie in each other's way. He loves that we were able to find complementary cabinets to match the existing woodwork in their home. And, they're no longer cooking in the dark with their new lighting layout; instead they have LED under cabinet lighting and recessed cans for task and ambient light. Our favorite features of this kitchen are the ones that are specific to these clients have an appliance garage within their built-in business center that houses their cell phones and chargers; an area for bill management; and a specially-designed deep cabinet that houses their favorite cooler for frequent weekends away. It was really fun to work with clients that had such specific design requests that: fit their lifestyle needs, provided specific solutions, and hid the clutter.