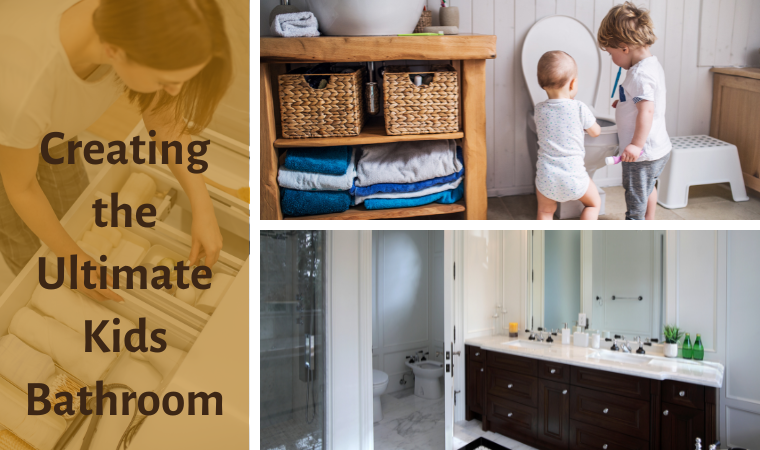 Creating the Ultimate Kids Bathroom
A bathroom is a bathroom, right? For those that are looking to create the ultimate kid's bathroom, here are the things we recommend to ensure your kid's bathroom takes them from teeny to teen.
Vessel sinks. While vessel sinks can be an attractive option for bathrooms, don't select these or any other options that don't have a sink overflow feature. Young kids and older kids alike are easily distracted, so if the faucet is left on, an overflow feature can save your floor and perhaps even limit more serious damage.
Self-closing toilet lids. If a lid left up drives you crazy or you have kids prone to watching what happens when they flush things down, a self-closing toilet lid may be an ideal solution for you. These seats  automatically close after use reducing the risk of "random swimmers."
Lots of storage. For both young and older kids alike, having appropriate storage is key to creating a long-lasting functional bathroom. With younger kids, it's usually toys and health-related items, while teenaged users will appreciate having their own space for personal products.
Varied Lighting. We love motion sensor lights for all ages as they will cut down on the energy bill in the long run. Teens are going to require good lighting for make-up and skin care. Dimmable lighting is nice for those morning showers when even the grouchiest kid needs to make the school bus.
Durable materials. Let's face it, kids are hard on things. So, we recommend durable materials that will take your kid's bathroom remodel go the distance. Vinyl or laminate flooring is easy to clean and will handle bathtub splashes. Seamless walls and floors in the shower will withstand dropped items better and cleaning will be simpler.
Separation. If your space allows, consider a door between your toilet/shower area and the sink(s). This will allow multiple children to use the space (one showering, one brushing teeth, etc.) at the same time, lessening fights and frustrations around high-volume bathroom times.
Accessories. Hooks are far superior to bars – no one will be moved to show off their gymnastics skills with a hook, whereas a bar is similar to what they'd find in an athletic gym. Proper height step stools can help a young child be self-sufficient and are easily removable as the child ages, extending the life of your bathroom remodel.
Two levers. A great idea for both the sink area and bathtub and shower is two levers – one for hot, one for cold, which can lessen the risk of hot water burns. Even young kids can grasp the concept of which lever to use, whereas one lever that manages both temperatures leaves more opportunity for getting hurt.
Finally, automation is your friend. Motion sensor lights, timed fans, dimmable switches, and even automatic flushing can be great options for the busy family looking for long-term, functional use of a child's bathroom with a nod toward energy efficiency.