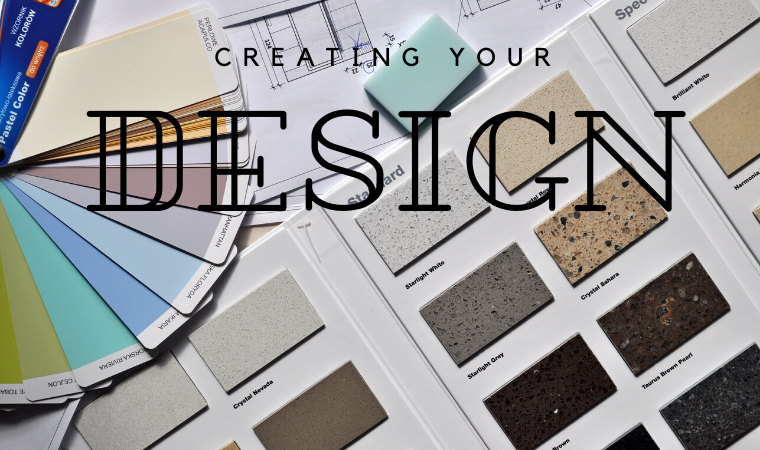 Creating Your Design
As a design-build firm, people are often focused on our construction skills. While we love featuring our excellent craftsmanship, our design know-how should not be undersold. Sometimes clients come to us knowing exactly what they'd like. Often though, we have clients that know they want updated aesthetics and more functionality, but don't know what that looks like in terms of creating a newly remodeled space encompassing their personal design tastes. In order to get to that final look just right, we rely on significant feedback from clients as we hone the right design and materials for them. This is how we do it:
Ask Questions. Seems simple enough we know, but with over 45 years in the industry, we know how to get answers from our clients that will get functional design elements in short order. We walk through the existing space and talk about what we see and what they might want to replicate in a remodel at one of our first meetings.
Identify Pain Points. What works for you in your space and what doesn't? It's amazing to see how quickly a winning design can come together if we have this information and can address them in the design up front.
Create Solutions. Individual solutions are an integral part of our design process. We suggest them based on feedback we receive from you on how you use (or want to use) a space. For instance, if you cook a lot of pasta, a pot-filler may be a good addition to your kitchen remodel. An on-demand hot water tap may be a great addition for an avid tea drinker.
Offer Choices. Often we get asked for a design that has more storage. Typically for most functional improvements, there are multiple ways to accomplish that, and offering clients choices will help to determine which works best for a particular family.
Determine Preferences. Clients can have a hard time determining their style, in that case, we send them to websites like Houzz to scroll through images and create a file of rooms they like. Often trends will pop out and we can quickly get to a preferred aesthetic, even if they can't articulate it themselves.
Provide Pros and Cons. Especially with material selections, there are pros and cons to almost all of them. Our experienced team can help you determine which material is right for your space and fits your lifestyle. Some items require more maintenance than others, like annual sealing. Other materials may be porous, so we wouldn't recommend usage in certain places. We offer this information to clients and then they make the final selection.
Get Samples. It's amazing how much different lighting can change the look of a tile or solid surface material. Paint colors present very differently depending on what light they're shown in, and what complementary items are chosen. Be sure you have a sample of all things you're considering and sit with them for some time in your home to ensure you've made the right choice.
Visit Showrooms. We have trusted showrooms that we take our clients to in order to select faucets, tubs, toilets and more. It allows you to see an item in person and get hands-on. Does it feel right in your hand? If not, you're going to have buyers remorse. While shopping online can sometimes net you a better deal, area showrooms allow you to support local businesses, while also ensuring your choice looks and feels as you expect. If there's an issue with delivery, showrooms have a contact that can help track it down and provide service support should there be a performance deficiency later.
See more of our designs on our featured work page.