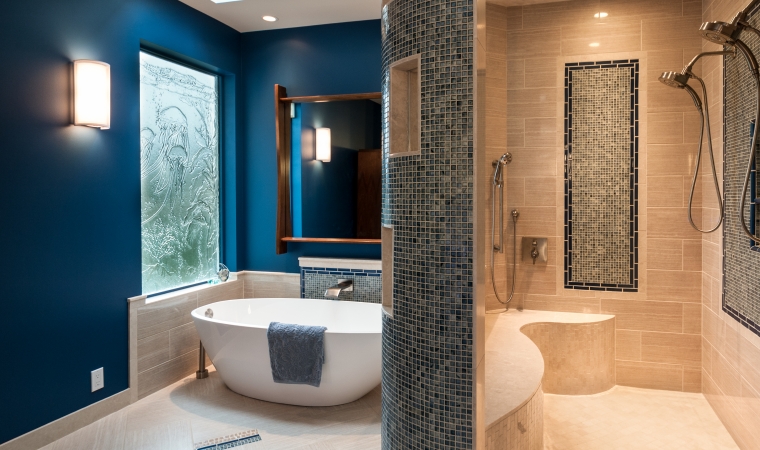 Custom Bathroom Dreaming
Everyone has different desires in their remodeled space, along with different size rooms to work with. If you're considering letting your wants run wild, we suggest you consider implementing the following in your custom bathroom remodel:
Layered Lighting – don't stick with basic overhead light in the bathroom of your dreams. Instead, consider side sconces to the mirror, can lighting, natural light in the form of a skylight, or window, along with a beautiful pendant light in your space. Layering your lighting ensures that the space is bright and beautiful.
Quality Essentials – A toilet and sink may seem like areas where you can cut corners on cost, but we recommend that you really consider purchasing good-quality versions of these work-horse items. The first time a leak happens because of poor construction, you're going to wish you'd upgraded the porcelain throne.
Warmth – we're not necessarily talking about temperature, although that's important too. There are so many beautiful tile options on the market today, along with wonderfully cozy colors, you can really create a room with warmth- even if you're the only one that gets to enjoy it.
Attractive Storage – your design should include niches and cabinets that will contain the expected bathroom detritus. Many times, space can be claimed within the walls, but you don't want storage to be an afterthought, it should be well-thought out and fit within the overall look of the space.
Soaking Tub – what's better than taking this basic item to the next level. If a tall, free-standing soaking tub is where you want to spend some time, there are some very attractive models on the market. Choose one with jets for a spa-like experience. We also recommend outfitting your tub with candles, a resting place for a book and possibly a glass of wine.
Multiple Shower Heads – Instead of a cramped shower with the requisite one shower head, consider a roomy locale that has a rain showerhead, body sprays and possibly showerheads for two. A pro tip is to understand what your hot water tank will support and if you'll need to make adjustments for the set-up you desire.
Heated Tile – Facing cold winter mornings can be so much easier when the room you're entering to prepare for the day is warm and toasty. Heated tile, towel bars and walls can make your bathroom duties a more enjoyable experience.
Shower Glass – We see lots of clients really make a statement with their shower glass. Love, mountains or a fan of scuba diving? Glass etching or shapes, can really feature your passion and make your space unique. If you're more interested in a basic glass door, that's great too as it will let in a lot of light.
Tech Touch – adding just a bit of automation to a bathroom would really up its appeal. Since many of us are creatures of habit, having the floor tile or towel bar heat at a particular time each day, or lights that are on a sensor or a fan that stays on would be such a nice touch.
Whatever you choose for your space, we're happy to help you make the design and selections that make your bathroom remodel dreams come true.