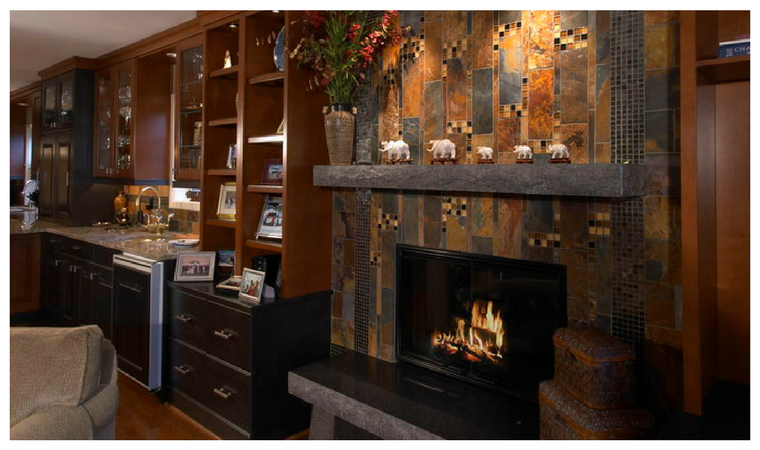 Don't Get Burned By Your Fireplace Renovation
It's that time of year where the hot cocoa and a book by the fire sound oh, so right. Ideally, your fireplace is also something attractive and functional to cozy up next to. If not, consider the following when embarking upon a fireplace remodel or adding a net-new fireplace.
Is this a fireplace remodel or a net-new fireplace? If you'd like to have an existing fireplace redone, consider what material the face, hearth and mantle is made of. In the Seattle area, it's common to cover over existing brick fireplaces with ease as long as the material is in decent shape and not crumbling. With either a remodel or net-new fireplace, you'll need to determine whether you desire a gas or wood-burning version. Gas is more efficient, but if you don't have gas to your home will it will require more of an initial investment.
How will you use the fireplace? Some use fireplaces for ambience on chilly days or for cozy nights. Others are using it as a primary heat source. Really consider what you need from your fireplace.
Will the fireplace stand alone or be part of a larger design? Determine how you intend to use the space where the fireplace will go. If you desire a robust reading nook, you may also want to include built-in bookshelves on one or both sides that will create a cohesive design. If audio and visual equipment will also be stored in a bookshelf, we recommend planning ahead in the design to account for electrical plugs, and cord management solutions.
Do you intend to place a TV above the mantel? We don't recommend this as with most fireplace designs, the TV ends up being too high for optimal viewing. Instead, we recommend that you work it into the design of the built-in bookshelf or elsewhere within your entertainment space.
Are we trying to match existing room aesthetics such as trim, wood cabinets, and other home features? If so, then we'll want to incorporate similar design aesthetics into the fireplace so that it feels natural in your space. If the fireplace will encapsulate a totally unique design, different from other things in your home, we need to determine a natural stopping point between design elements.
Do you prefer a floating hearth or one that goes to the floor? This is a matter of personal preference really. A floating hearth tends to offer a more contemporary look.
What type of materials do you prefer? We recommend staying away from marble for fireplaces as it's a softer material that stains easily and tends to come in lighter colors, not ideal for a fireplace environment. Instead, we suggest either natural stone tile in darker colors or a porcelain tile where to our clients. In both, you can find versions where the color goes throughout and it's a tougher, stain resistant option, although may require sealing every few years.
Do you prefer stain or paint? If you like more of a natural wood look, stain might be you preference. However, if you have a lot of white trim in your home, or have a lot of craftsman elements in your home, a painted version might be a better fit.
Grab another cup of cocoa and start pondering your preferences. We're here to help create the cozy or functional fireplace you've been dreaming of. When you're ready to pick-out the right fireplace insert for your project, our friends at Sutter Home and Hearth will be happy to help you out.