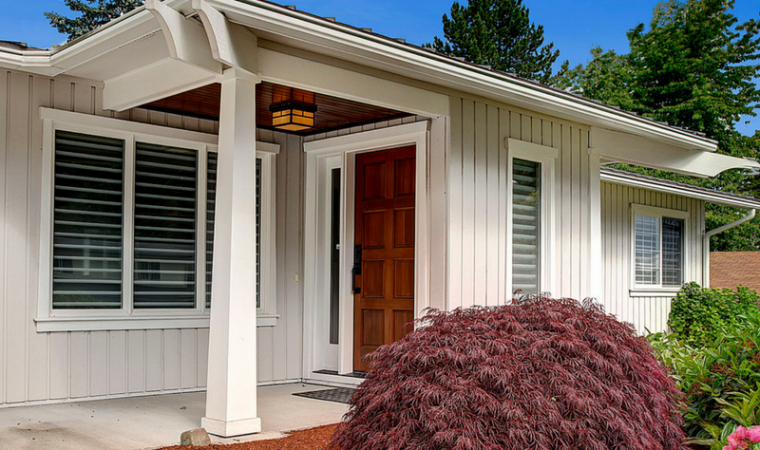 A-Door-n Your House
Doors are a major focal point of your home's exterior and are also a significant component to keeping your home's interior intact and beautiful. Front doors withstand weather, unexpected visitors and bugs. Here are a few things to consider when selecting a new front door:
Material options can include wood, fiberglass-composite, steel, and aluminum.

Wood doors are beautiful, feature a grain specific to the species used, and can be painted or stained, depending on your preference. Solid wood doors can be expensive and will show wear, especially if in direct sunlight. THey are also less energy efficient than other material options on the market.

Steel doors are likely the most secure and durable material option for a front door. They won't crack or warp in inclement weather and are also cost-effective, but can dent easily. Steel versions are energy-efficient.

Fiberglass-composite doors are great for tough climates as they do well in harsh or humid weather. They can look similar to wood, are energy efficient, and typically come with long warranties.

Aluminum doors are second most expensive to wood, but have  baked on enamel finishes, ensuring maintenance items like painting and rust can be avoided. Aluminum doors are typically custom-built for your opening.

Feature options can include side glass and an adjustable threshold.

Side Glass is a nice aesthetic for the front door. It can bring great natural light into a home's entryway and with textured or patterned glass options, can continue to offer privacy.

Adjustable thresholds are a must have. The ability to adjust the threshold of your door can ensure that you keep weather and bugs outside.

Style – Pick a door style that complements your home's style – if you put a mediterranean door on a craftsman style home, it will likely look amiss. The door style should tie together similar exterior aesthetics for a cohesive design. Consider implementing sidelights, and other adornments for a real eye-catching design.

Size – Do you prefer a one-door opening, or two-door grander entrance? If a two-door style is desired, it may require other exterior changes if going from a one-door to a two door opening.
Don't forget to choose attractive door hardware. Want to see what other clients have chosen? View our project galleries here.