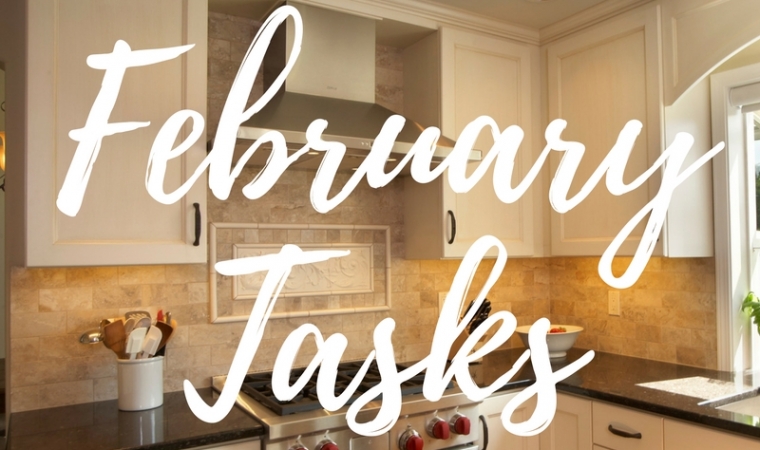 To Dos to Tackle in February
February is a tough month for many of us in the PNW. The gray and rain, or snow as this year has brought, has grown tiresome. Since you're likely not out in the elements, this is a good time to take a few minutes each day to address some in-home tasks while you can.
Check the gutters. I know you feel like you just did this, however, with ice and snow, tons of rain, and wayward tree branches and leaves, your gutters could be full again. Don't wait to find out by a water leak, instead take a few minutes when it's dry to clear anything that may be camping out in the gutter.
Clean range hood filter and fan. The range and vent is one of the most used items in a kitchen, but tends to get missed during an annual or bi-annual deep cleaning. Grease can build up in the vents, lessening its effectiveness and possibly increasing your risk of fire. We recommend wearing gloves to protect your hands from unwanted cuts and scrapes and using a citrus-based cleaner for eliminating the hard to remove grease spots. If reaching the fan blades is a possibility, give those a good wipe down as well.
Organize bookshelves and recycle the books you've read or don't think you'll enjoy. Just shedding these unwanted volumes will make you feel lighter this winter.
Clean out the medicine cabinet. There's no time like the present to look at your prescription and over the counter meds and get rid of anything out of date or that you're no longer using. Consider dropping medications off at your police station so that they are disposed of properly instead of tossing in the landfill.
Start planning a spring or summer home sale. If the change of season means you'll also be putting your house on the market, now is the time to get organized and tackle the small tasks that will add value to the sale.
Add some color. If an interior paint project has been on your mind, now is the time. Painters generally charge less in the winter months as this is their slow season.
Clean your washer. Yes, you read that right, clean your washer. Our washers help us rid our clothes of stains, dirt, grime, mold and mildew, but it needs a little love and attention too. Run hot water with some bleach and let it sit for an hour. Then run the cycle as normal (no clothes included) and then run another cycle with vinegar. Scrub the walls of the washer if yours is in need; use a toothbrush in the crevices for the ultimate cleaning job.
Check your attic for water leaks. Looking for trouble seems silly, but since we're getting a lot of inclement weather, it's easy to determine if moisture is a problem in your home and nip it in the bud before it's really an issue.
Don't worry, there's only 26 days until spring, so longer and brighter days are on the horizon. If you need something to dream about, view our project portfolio.