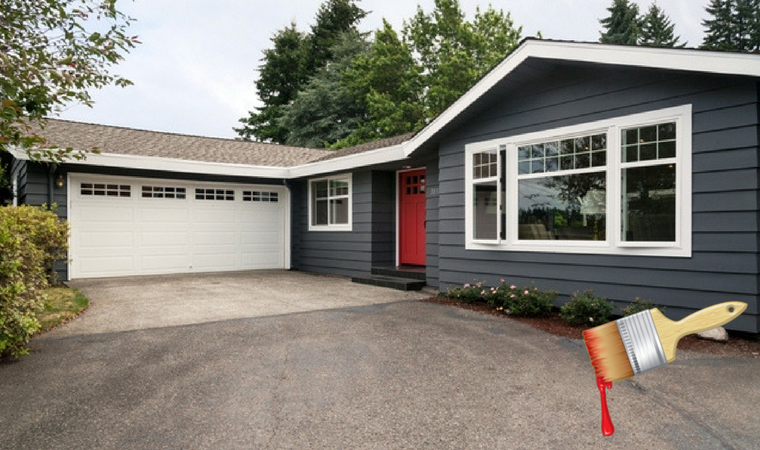 Elevate with New Paint
It's amazing what a fresh coat of paint can do to elevate the look of your home. We chatted with one of our long-time trade partners for tips on getting the best exterior paint job.
Q. Is there a preferred time of year to paint the exterior of your home?
A. Yes, the busy season for exterior paint jobs is typically between May and September, although in temperate years it can be accomplished at other times of the year as well.
Q. When do you typically need to book a quality painter by?
A. Depending on the painting company's size, many are booked up by May through the rest of the dry season. Sometimes you can still find an available painter in July, but by August, you've likely missed your window. If this is a priority for you, we'd recommend getting on a company's calendar early in the season.
Q. What can homeowners do to get ready for a paint job?
A. Drive around your neighborhood and note the houses you like the paint job on. If there's one you really love, stop and ask them for the color. Paint chips are helpful, but nothing can beat seeing what the finished product will look like in real life.
Q. What should homeowners look for in a quality painter?
A. We think it's important that a trades-person is part of their professional association. In the painting world, that's the Painting and Decorating Contractors of America. I also appreciate when a business participates in their community, either in the way of charitable donations or events. Longevity also can ease your mind as they've likely survived with repeat business and quality customer service. Another great idea is to check review sites to see what other homeowners experiences have been.
Q. How should I budget for this project?
A. As with any other home improvement project, every home is different. Some require more prep work than others, some have more square footage, or inherent risk with high heights or steep angles. Ask your neighbors with similar houses what they paid and then get a quote to see if it's in line.
Q. How long should I expect it to take?
A. Again, it depends on the complexity of the home and existing state; but on average it takes around a week to get your home looking beautiful again.
Q. Do you protect windows and doors that aren't being painted or that will feature a different color?
A. We protect surfaces using plastic, paper and safe-release blue painter's tape. We also clean up after ourselves.
Q. Do you help clients pick paint colors?
A. Picking the right color and shade is a real art. If a client isn't working with a full-service contractor like McAdams Remodeling & Design, we have an on-staff color consultant that can help. In addition, our Benjamin Moore representative is a great source for our clients.
Q. What if I hate the color when it's done?
A. Hopefully, you've done the work ahead of time to ensure that your color choice is just what you're looking for. This is also where finding a house nearby is helpful to really being sure that you like the finished effect. If you really hate the final look though, you can always pay to have it painted again.
Q. How long should an exterior paint job last?
A. In our climate, a quality paint job should last 12-15 years. High weather sides of your home will fade sooner than others and some maintenance, like touch-up caulking with expanding and contracting joints, can help extend the life of the paint.
Q. What are the hardest surfaces to paint and why?
A. Galvanized metal can be challenging at times as it needs special cleaning and prep, prior to painting. Decks or other horizontal surfaces can also be tough as paint can pool leaving imperfections if you're not careful.
If you are looking for a paint resource or have a question on elevating the potential of your home, please call us; we love helping our clients!