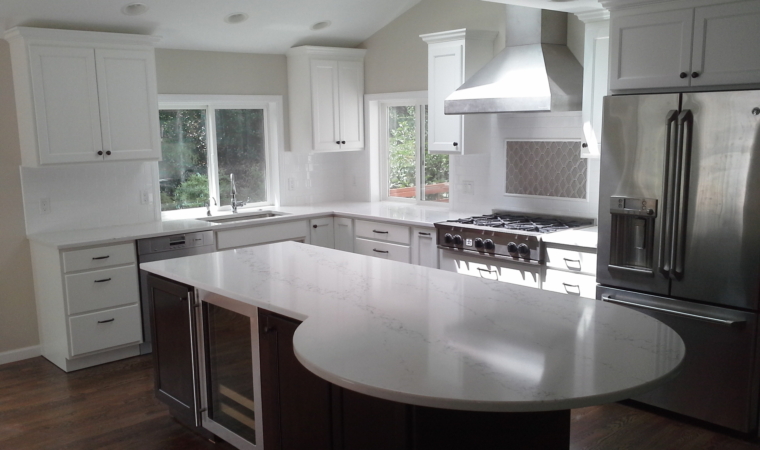 Entertaining Mercer Island Style
Some of our favorite Mercer Island clients contacted us about remodeling their kitchen. The Krenzer's had lived in their 1962 home for almost 15 years and for much of it, the kitchen was sufficient while they worked and raised a young family. They'd upgraded other parts of the home since moving in during 2002, and had ideas of what they'd like to do to their kitchen, but now that the kids are in middle school and high school, they felt it was time to get serious. The wood floor had scuffs and scratches and was in need of repair. A section of the kitchen had been an addition by the original owners, and had a post that came down in the middle of the island. The adjacent powder room was awkward and the couple really desired additional storage in the pantry. The general look of the kitchen was dated and ready for a remodel.
The family's goal was to create a warm and inviting space where entertaining large groups of clients, family or friends was feasible and enjoyable. They wanted a design that would encourage their teens to easily grab a snack, and entertain friends. Jodi wanted a white kitchen with a well-designed business center to keep her work contained, but handy since that served as her work space, separate from Rob's office. The adjacent powder room needed a more efficient layout that would be great for frequent guest use.
The custom kitchen features a newly opened up space thanks to a large structural beam that was placed after removing the post running through the middle of the room. The island design features a contrasting cabinet color, wine refrigerator, and much needed storage space. The custom-cut Fantasy Brown Quartzite island counter serves a dual purpose – the traditional end is a work space, ideal for food prep, while the larger rounded end is perfect for teens gathering for a post-game snack. A stainless steel sink and appliances, including a double-oven, give the space a clean, updated feel and replace the dated, white versions. The newly expanded pantry borrowed unnecessary space from the adjacent powder room, allowing for a doubled storage capacity, including storage inside the doors for easily grabbing commonly used items. Jodi's new business center had the same cabinetry, but a complimentary wood top with large drawers and four large upper cabinets to contain work detritus. The previously dysfunctional powder bath now has less space, but a more functional flow, featuring a white Kohler pedestal sink, toilet, and polished chrome fixtures.
The Krenzer family is so happy with the results. The newly minted kitchen is already well-loved!