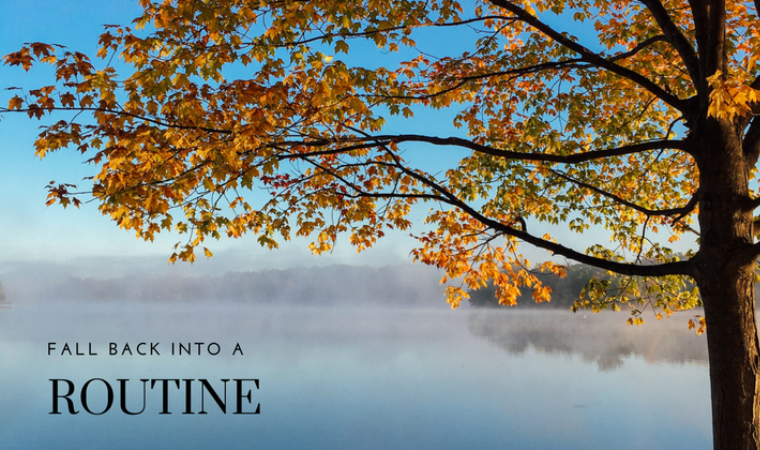 Fall Back Into a Routine
The weather hasn't quite come around yet, but the seasons are changing and it's time to fall back into your routine. Beyond sending your kids back to school this time of year, it's also good to consider:
Meal planning – unless you're one of the lucky few whose home had air conditioning, you've probably been utilizing your barbecue and stove top almost exclusively. As the season changes, so will your menu. Turn the oven back on and up your meal planning game. Set a goal for three home cooked meals a week to start, so you don't get overwhelmed.
Chimney evaluation and firewood collection – with half the state on fire, this task is probably far from your mind right now, but come the crispy evenings, you'll want some dry logs to use. If your home has a gas fireplace, you're all set. In either case, have your chimney evaluated by a professional to ensure you don't have creosote build-up or any other external issues.
Launder blankets – break out the cozy blankets that you curl up under and get them laundered and ready for those cold evenings. Air out things that have been stored away for winter to make them feel fresh again.
Clean windows – especially after the smoky days, the windows could use a cleaning. Use a vinegar dish soap solution to make your view crystal clear again.
Change batteries – keeping smoke detectors and carbon monoxide monitors operating at optimum performance with fresh batteries. Check other safety device's expiration dates.
Buy A/C filters – this is a good time to get some new A/C filters from the store. They're likely clearing them out and you can be sure they fit your unit before wrapping everything up together and storing it in the off-season. You may also be able to pick some fans up on sale as well.
Check weatherstripping – if you notice gaps or light coming through doors, it's likely you need to replace the weatherstripping. Not only will it keep out unwanted pests, like spiders that come in this time of year, but it will help with heat retention once colder temperatures come into play.
Get on the roof – check out your roof for any worn or concerning areas and make sure your gutters and downspouts aren't stuffed prior to the deluge of rain that's likely to come soon.
Check the attic – make sure attic vents are closed and no unwanted friends have made a nest. Evaluate whether your home could benefit from more insulation, a good idea if it's matted down or old.
Make a list – if there are outdoor changes you'd like to make, but know that you don't have time before the weather turns, make a list and keep it somewhere you can find it in advance of next summer. You'll want to get on someone's calendar before the season for exterior paint jobs, non-emergency siding improvements, and new decks and patios are in demand.
Don't get overwhelmed by this list of tasks, most will take you just a moment or two. Just tackle one or two a day, and you'll be happy you did.