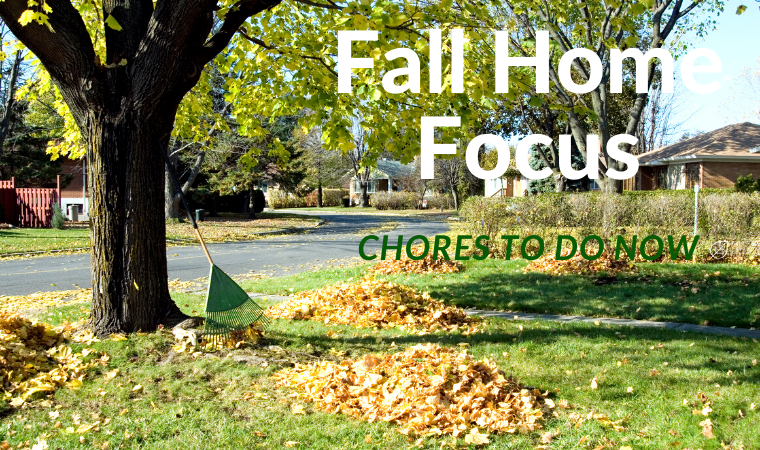 Fall Home Focus – Chores to Do Now
Fall is a time for colder temps and more wind, rain, and spiders. Consider these as your notice that you should be tackling a few items on your maintenance list to ensure you and your home is ready for this change in season.
Check all window and door seals – if you notice any cracking or gaps, it's time to repair them as soon as possible. As it gets colder outside, chilly air and bugs will be trying to come inside. Poor seals will the easiest route for both to enter the home, so cut off that option.
Check and replace filters – fall is a good time to check your furnace and/or air purifying filters to see if they need replacing. Especially after our recent week of smokey air, these items have been working overtime to keep the air in your home clean and clear.
Fireplace and Chimney evaluation – is your flue open or closed? Pilot light working? Chimney in good shape? Many accidents or leaks can occur with a less than optimal fireplace and chimney. Fall is a good time to that yours is in good working order.
Cover outdoor faucets – while we aren't at risk of freezing temperatures yet, it's still a good time to start thinking about ways to safeguard your home from the changing weather. Many homeowners prefer to cover their faucets when done with seasonal watering so when the freeze hits they won't have to worry.
Clean gutters and downspouts – 'tis the season for falling leaves and more rain. To keep your gutters and downspouts in optimal working order, clear out leaves and debris from the gutters and make sure downspouts are moving water away from your home as expected.
Take a look at your roof – if you see curling or missing shingles, now is the time to address it. See our previous roof article to identify when it's time for a replacement.
Test smoke alarms and carbon monoxide meters – replace batteries where needed and don't forget to check the expiration date on your fire extinguisher.
Rake leaves – we know it often feels like a never-ending chore, but fallen leaves left on lawns can kill the grass. Regular raking can make this chore a little more manageable. If you have little people in your life, or you're just young at heart, consider making it an opportunity for a little fun by jumping into the leaf pile!
Pick up fallen fruit – fermented fruit not only smells sickly sweet, but the pits can cause damage to mowers. Just rake the fallen fruit up while you're working on the leaves.
Put away seasonal furniture – avoid getting moss on your furniture by covering and putting away your seasonal set-up. If you heat a covered outdoor living space during the off season, it's time to test your heater to make sure it's operating as expected.
Look for cracks in your foundation – water can get into any crack, so take note if your foundation is showing wear and get a professional out asap. As the water tables rise, you'll be thankful you did.