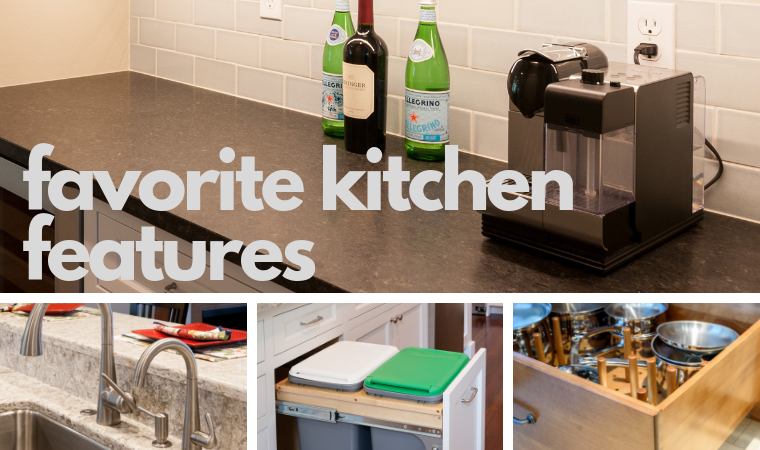 Favorite Kitchen Remodel Features
It's hard to pick just a few favorite elements in a kitchen remodel, as there are so many great solutions to choose from. However, our team agreed on the following favorites:
Pot filler – this swing-out tool is typically positioned behind the stove and is great for avid cooks that want convenience at their fingertips and don't want to lug heavy pots around the kitchen.
Spice Rack – if you love to have an organized kitchen, this feature is well-worth the cost in time saved and mess avoided.
Food Sensitivity Space – many clients love having dedicated spaces if food allergies or sensitivities are at play. We've done several spaces for clients that desire a gluten free zone where they don't have to worry about contamination from other family members.
Food Waste – If you love cooking, having a flush-mount food waste container may be desirable. You can easily sweep food waste into the bin and keep it enclosed until you are ready to empty it.
Hidden Garbage Can – if you have the space to include a cabinet for garbage and recycling, it keeps this eyesore from cluttering up your beautiful new space, but with easy access.
Coffee Bar – many coffee loving clients choose to have a dedicated space for their coffee habit. The machine, coffee beans, mugs and all related paraphernalia can be stored in one space for a quick and easy caffeine hit on your way out the door.
Raised Bar – it's common for the kitchen to be the gathering place in a home. Having a raised home bar can allow guests to congregate in the kitchen, but keep the work spaces clear for cooking. Raised bars are also great solutions for after-school homework.
Appliance Garage – a closeable space where the commonly used appliances can be kept, plugged in, but without having to take out valuable counter space or creating an eyesore.
Prep Sink – a relationship saver in a busy kitchen, a prep sink can make food preparation fast and easy without having to nudge a family member out of the way every time you need to wash a vegetable. We like to see this prep sink in an island as it gives two distinct work locations.
Warming Drawer – a nice feature for clients that do a lot of entertaining. This allows you a dedicated location to keep food warm while you're still preparing other items.
Which ones would you choose for your space?