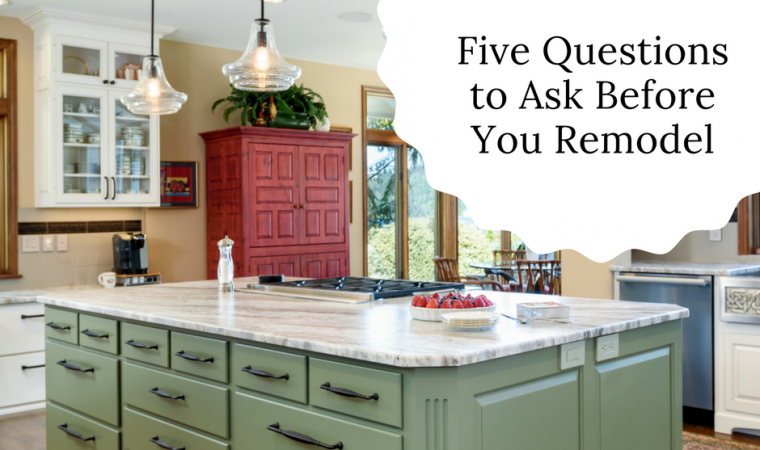 Five Questions to Ask Yourself Before Remodeling
So many people are caught off guard in the design stage because they haven't thought through the basics. Instead of paying for design time, a little bit of research on  your behalf can go a long way to ensuring your prepared to begin your project.
What is required by Code? You may love a specific item, only to find out that your home isn't in compliance with code. If you live in an older home, that could pop up in the case of GFI switches, arc faults, proper ventilation requirements, and more.
What's my countertop preference? You might think that choosing the material, color and pattern of the countertop were the only decisions you'd be faced with, but the countertop edge is another. There are roughly 10 main edges to choose from and some may be recommended with certain material choices over others.
What selection finishes do you prefer – silver, gold or bronze materials? If you're worried about fingerprints, we recommend considering a brushed option as that can reduce the amount of water spots, etc. that will show. Choosing selections and appliances within the same manufacturer will ensure the finishes all have the same appearance, if this is important to you.
How do I want my sink mounted? Vessel sinks sit on top of the counter and are thought of as an art piece. Undermount versions have no lip and are mounted to the underneath of countertop and are ideal for keeping sink areas clean. Top mount or drop in sinks have a rim that sits above the countertop. Farmhouse or Apron Sinks, are large single-basin alternatives with the front featured in an integrated design with the countertop.
Honed or polished stone? Both can be done on either quartz or granite, but much comes down to preference. If you prefer a shinier finish to your countertop, err on the side of polished. If, however, you like a more matte or leathery look, you'll be happier with a honed option. Be sure to see both options in person as they can drastically change the look of the finished product.