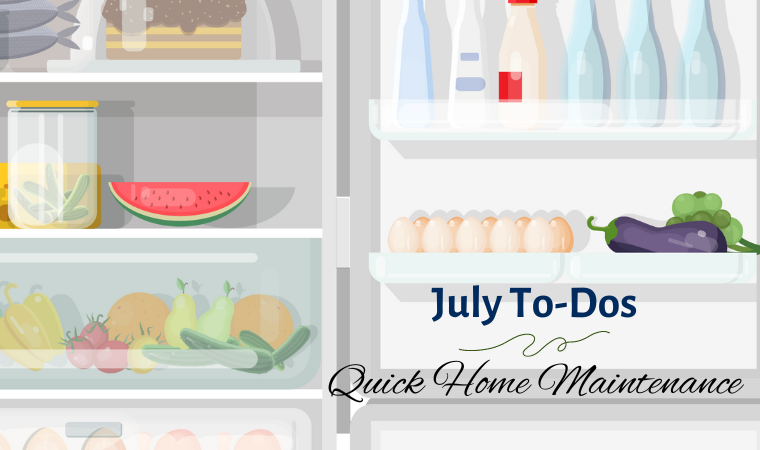 July Quick Home Maintenance
Our July home maintenance list is short so you can focus on enjoying the beautiful days while we have them. Here is the quick list:
Clean out the frig and pantry. Pull out food, check dates on things in the back and throw out anything that's past its prime. Then, remove shelves and drawers to scrub things throughout. Take the opportunity to replace the water filter in your refrigerator if it's been a while since you've done it.
Clean the oven. You're probably grilling more so take the time to really give your oven a good deep clean. Remove the shelves, wash them and then scrub the interior before pushing the self-cleaning button. Be thoughtful about what cleaners you use as to not leave extra residue that could get on or in your food.
Plant veggies. While your summer garden is likely full throttle, now is the time to start planning and planting for Fall. We look to area experts like Swanson's Nursery for what will do well here in the cooler season.
While your summer wardrobe is out of storage, now is a good time to go through the items that are out of style or don't fit anymore and donate them. Not only will you have room for a few new seasonal favorites, but it's a tax write-off too!
Check your siding. Dinged and damaged siding can offer refuge to bugs, especially in the fall. It can also provide an opportunity for water to impede where you don't want it. If you take note of it now, you can get issues resolved before the fall weather changes.
Happy Summer!