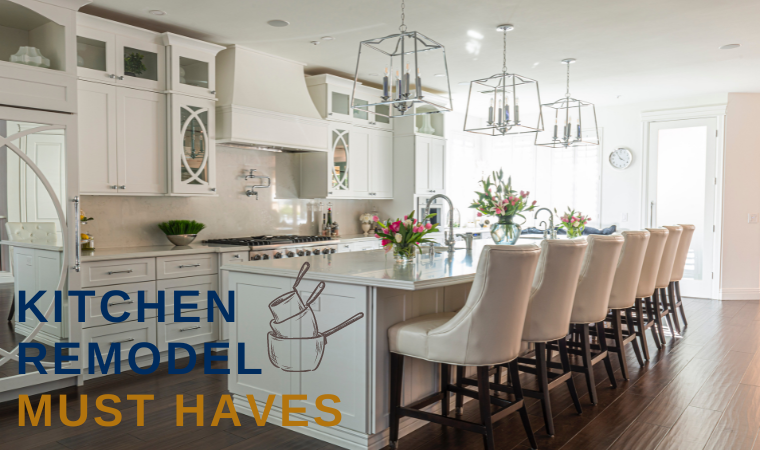 Kitchen Remodel Must Haves
If you're thinking about a home remodeling project, there's a good chance the kitchen is involved. While embarking on a kitchen remodel is typically a significant financial undertaking, it's also one of the most worthwhile investments you can make as it affects both your quality of life and lifestyle. Cabinet replacement represents a significant part of the remodeling budget, and while the wood, color, and style of the cabinets depend on the client and their preferences, there are a few features we find our clients select regularly.
Soft close cabinets are a must-have in today's remodels. Not only are they great for families with kids (no more cringe when the cabinet slams against the frame), but they also help with wear and tear on the wood.
Built-in spice racks, knife storage, and pull-out drawers with pegged options for personalized storage needs are ideal in a busy household that values custom storage solutions.
Hidden cabinet compartments are the ideal place to house garbage and recycle receptacles to prevent these from detracting from your new aesthetic. We also recommend a dedicated location with slotted vertical storage to contain cookie sheets and cutting boards.
Coffee-loving clients may appreciate a dedicated coffee bar that includes all the fixings in one easy-to-reach spot.
Those that prefer to have appliances handy without creating an eyesore should consider including an appliance garage in their kitchen design to hide the often-used toaster or blender without having a visually cluttering the countertop.
Consider including simple, but powerful conveniences, to include in your kitchen design such as a pot filler, oven warming drawer, or built-in tablet for easy recipe access. Don't forget to include a layered lighting solution of task, ambient, and feature lighting. All three are key elements in any kitchen remodel, while undercabinet lighting helps with more focused countertop tasks. If you plan to highlight special dishes and décor, feature lighting is integral to showcase them properly.
Finally, we believe that a sufficient pantry is the key to happiness in a kitchen remodel. We often direct clients to a pull-out pantry solution vs. a closet, as the space savings doesn't detract from the storage capacity while still allowing for other desired kitchen design elements.  If space allows, you may be really pleased with a serving or butler's pantry which will allow you to optimize prep and storage space while keeping the mess out of the sight of guests.
Whatever features you choose for your remodeled kitchen should be unique to your home and lifestyle. The options to include in a kitchen remodel are many, so we recommend giving considerable time and thought as to how you use your space now and how a few changes could improve the overall quality and efficiency.