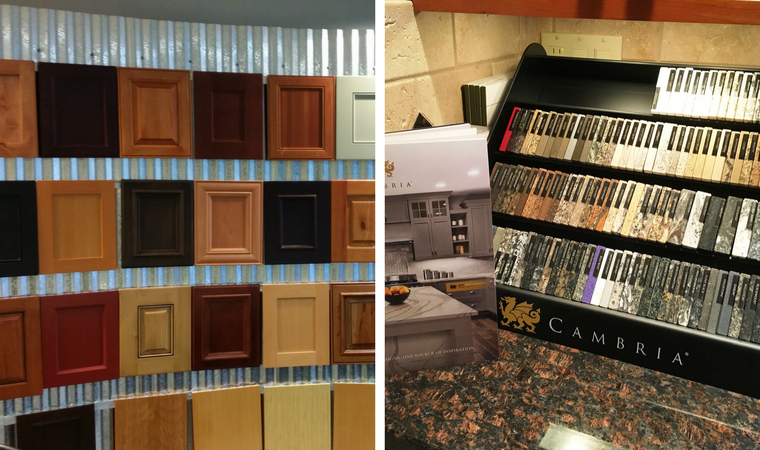 Making Selection Decisions Easy
Once you've completed a letter of intent with us, our team will help you start your selections process. Depending on the remodel, you may be selecting cabinet door style, color, tile; wall paint color, appliances; countertop material; hardwood stain and varietal, shower door style and more. While just reading this list may feel overwhelming, you can rest assured knowing our team will provide the tools to make these choices practical and dare we say… fun!
1st Step: Cabinets – This meeting will take place with your sales person and be the cornerstone of any design. This is where your project really takes shape and sets the stage for your other selections.
2nd Step: Appliances and Plumbing – We'll set you up with an appointment at our vendor showroom with a knowledgeable specialist to go through your options. Our selections coordinator will also attend to give you brand knowledge and help you with product pros and cons.
3rd Step: Solid Surface, Tile and Flooring – Choosing a solid surface countertop is the first step. During the cabinet conversations, we'll have a good idea of what material a client is interested in, and then we can provide some samples to consider. It's sometimes important to view a large version of a solid surface, especially if there's a lot of movement to it, so you can get a true idea of what it will look like. If you're interested in granite, we have some downtown suppliers we'll direct you to and if you're seeking quartz, there's an alternate location that we recommend. Once the solid surface choice is nailed down, we'll help you choose a coordinating backsplash and floor tile or hardwood color, if applicable. We have a favorite local showroom that can offer options for both. We typically meet you there to help streamline the process and keep clients from feeling overwhelmed, as the options are many.
4th Step: Paint and Lighting – We come to you with paint swatch options that will coordinate well with your cabinets and help guide you to the tone that you prefer. Lighting selections will be driven from your room design and may be selected from one of the earlier showroom appointments, or depending on the complexity may require a specific visit. In general, we find that clients hit the burn-out point at 1.5 to 2 hours of selections. It can be an overwhelming process, but with our help, you can create the look you desire with a minimum of stress.
Once all of the selections are made, they get put into your BuilderTrend project plan and you'll get a second look at them. This review will also help you in understanding where you are in the in your allowances. Once you've approved your selections in BuilderTrend, our team can get these items ordered and ensure they are on-site in advance of when they're needed for your project.