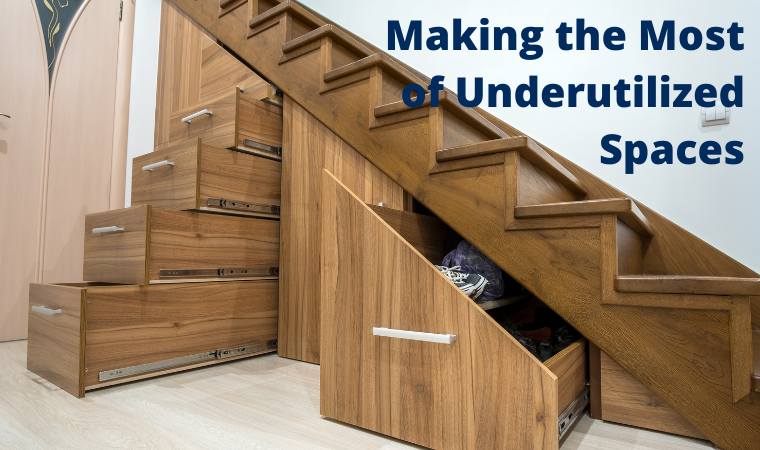 Making the Most of Underutilized Spaces
"Oh, I have enough space" says no one ever. Most of our clients come to the design table with increased storage capacity at the top of their remodeling wish list. Here are some room-by-room suggestions.
Kitchens: Most of our requests for increased storage space are for this highly-used room.  If a soffit exists above the cabinets, increased capacity can be gained by removing it in order to install taller cabinets, giving you at least one shelf (or more) than before. In many cases, removal is straightforward, though it can become costly if major electrical, plumbing or HVAC systems need to be rerouted. Is there a coat closet adjacent to your kitchen? Depending on your layout, often these can be converted to pantry storage. Deep slide-out shelving can also provide additional storage and be more efficient than a pantry. If your kitchen footprint allows for an island, this can be a great opportunity to increase storage while also gaining more countertop workspace. Islands can be great for housing large appliances and pots and pans. If you already have an island, is it being maximized for storage? Cabinet design possibilities are much greater than in years past, and a great cabinet company can make all the difference in your storage capacity.
Living Room/Great Room: Built-in cabinets are a great way to feature items you want to display, while hiding those you don't, and providing a polished and sophisticated look. Bay windows, with a built-in storage bench, offer hidden storage and can highlight a beautiful exterior feature. If your home is multi-level, under stair spaces can be utilized for various purposes such as wine storage, space for extra shoes or seasonal clothing, a coat closet and more.
Bedrooms: One of our favorite ways to improve bedroom storage is to focus on optimized efficiency. Previous projects have included utilizing unused wall space for jewelry storage and shoe cubbies, for example. Even the largest of closets can be improved upon with tools specific to what you have. A bay window with a built-in storage bench can be installed in a bedroom as well to provide a comfortable place to sit to put on your shoes while providing space to reduce clutter.
Bathrooms: Mirrored medicine cabinets are our go-to option for gaining additional bathroom storage. In addition, vanity cabinets with functional solutions for daily use items like curling irons and hair dryers reduce counter clutter and provide a dedicated location for these tools. Sufficiently sized niches in the shower can utilize available wall space and ensure ample room for toiletries. If your bathroom has enough square footage, a linen cabinet provides towel and sheet storage and houses cleaning supplies, freeing up space for other daily use items in the vanity.
Garage: Wall and ceiling space are the most underutilized in a garage. Shelving is great for holding holiday storage bins, while hooks on the wall or ceiling can hold bicycles and sporting goods. Closed cabinetry is great for extra paint cans and tools. High ceiling space can be utilized for overhead storage racks to house limited use items.
We love helping clients find and use more available space in their home. If you'd like to discuss a residential remodel, complete our consultation form today.