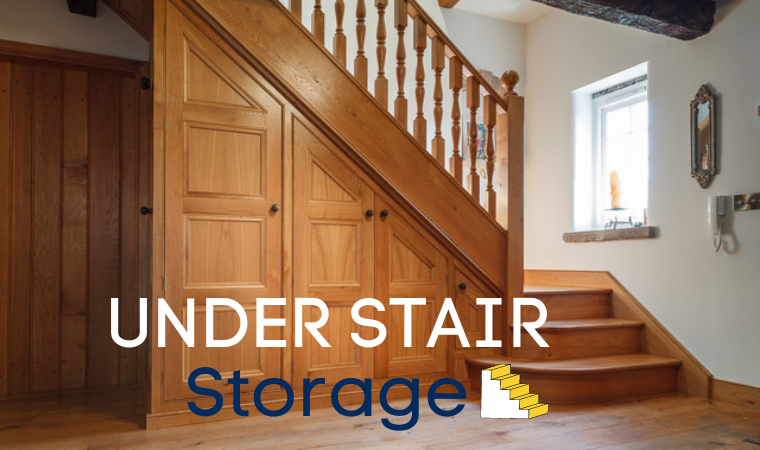 Maximizing Your Under Stair Space
In our area multi-level homes are the standard, and with this comes an underutilized area beneath the stairs. This is particularly true in planned communities where cookie cutter designs increase the profit margin while overriding function. The good news is that these can manifest into great storage opportunities with potential for improved aesthetics.  As shown in the images below, our client's stairs were carpeted and had thin structural posts and a bulky railing. The angled area underneath the stairs collected toys and kid clutter. Our homeowners didn't want to lose the storage, but they desired a cleaner, more polished look for their living room.
Our team remodeled the stairway to include wood treads and white painted wall panels both above and below the stairway, to create a craftsman look and feel. A red oak natural finish and painted white baluster on the railing created a beautiful statement upon entering the home. Upgraded door trim and a similar wrap around the support posts made a huge difference by providing a cohesive, attractive finish. A narrow doorway provides access to the much-desired toy storage, as well as a place to hang guest's coats.
Other ideas for under stair spaces can be customized based on a homeowner's needs and wants, but some of our favorite ideas include:
Dog den – under the stairs can become the perfect area to keep your pet's toys, blankets and feeding dishes tucked neatly away.
Built-in kid's playhouse – a great opportunity for a kid play area without the eyesore of toys everywhere.
Wine Room – use this space for your wine collection and be the envy of your friends.
Miscellaneous storage – whether cabinets or drawers, utilize this often-ignored space for its great storage potential.