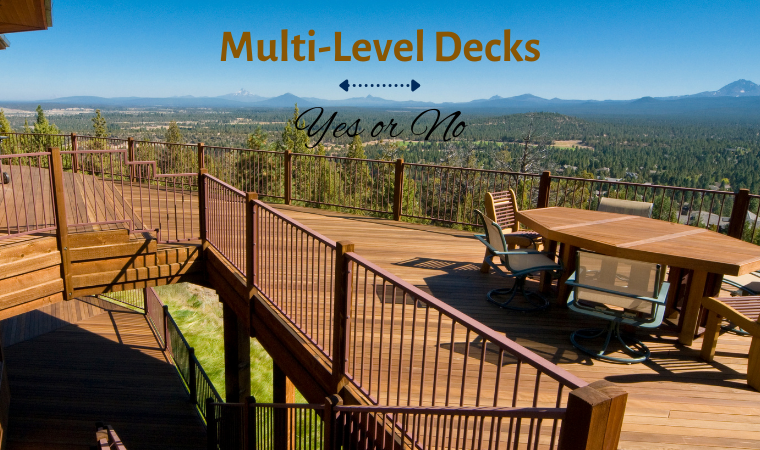 Multi-level Decks – Yes or No?
Decks and patios are a great way to maximize the use of your outdoor living area. Cooking, relaxing, and reading are all activities one could do on a beautiful day outside. Therefore, if a deck replacement is on your horizon and you're considering whether a single-level or multi-level deck may be best, consider your topography and what your space usage will be. Depending on the answers to those questions, a multi-level deck design could work well for your family. Below we've outlined the reasons to say yes, or why to pass.
Say yes to the multi-level deck…
If you'd like to create useful space underneath a deck, a well-planned stacked design may make sense.
If less yard maintenance is a priority, an additional entertainment space can offer a homeowner more options while eliminating costly regular lawn maintenance or landscaping design needs.
If it's important to you to have a separate space for specific functions like cooking and grilling, entertaining, and relaxing.
If you have a sloped property and want to utilize more of your lot, a multi-level design can be a great option to maximize the space you have.
If you'd like to have a covered space and one that's totally open to the elements.
Take a pause on a multi-level design…
If you already have a drainage challenge on your property, a stacked design could make this worse. There is also the potential for water, dirt, and tree detritus to overwhelm the lower level requiring more home-owner effort to maintain.
If you have a short lot, this design option may not provide large enough dual spaces, even if you implement a spiral staircase to connect them.
If your budget is tight, a multi-level deck will likely cost more than a traditional one-story version in both engineering, materials, and skilled labor.
While you consider a deck design, always focus on your current deck's safety, especially if you don't know how old your deck is. If you notice failing boards or loose screws, it's time to call in the professionals for an evaluation or estimate. Depending on how high your outdoor living space is above the ground, additional safety features may apply. In addition, if you'd like to include amenities, such as a hot tub, a professional can help you determine the appropriate load capacity required to do this safely.