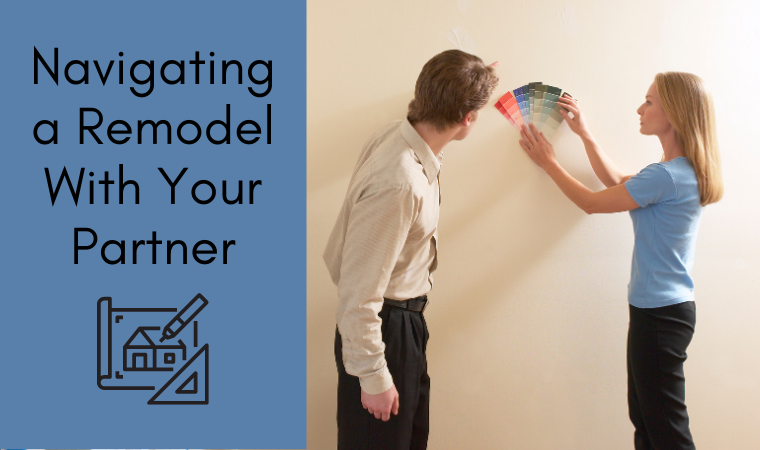 Navigating a Remodel With Your Partner
Does the idea of going through a remodel with your partner strike fear into your heart? You're not alone, but it doesn't have to be a bad experience. Instead of dreading the remodel, here are a few tips to keep you both on the same team.
Agree on the big picture and what you're trying to accomplish. Sit down and discuss what you'd like things to look and feel like when the remodel is complete. Agree on how you'll use the space to avoid any surprises during the process.
Determine what your top priorities are for the project and have your partner do the same. This way you can talk about which areas each of you may be able to compromise on. One partner may feel strongly about one part of the remodel and have very little concern about others. If a particular priority shows up on both lists, it's worth delving into your vision to determine where your desires may be aligned and where they diverge. This will save conflict later.
Discuss the potential investment. Finances are a top source of conflict in any relationship, so it's a good idea to address your budget constraints up front. Consider where each of you would be willing to spend a bit more, or less, to get the finished product you're looking for.
Understand the timeline of your project and have a conversation about how you'll manage any limitations. If you're not going to have a kitchen for a month or two, ensure you and your partner's expectations on how to manage that are similar. If eating out every night seems feasible, great. Being on the same page will save a lot of frustration for all. Don't forget to take all those affected into account, including pets.
Collectively decide on your preferences in a professional. If significant design work is needed to functionalize your space, a design-build firm is a good way to go. If your goals just require a good handy man, determine that also. Figure out what you both prefer in a professional, and then identify resources that meet your criteria.
The main goal in navigating a remodel with your partner is to be able to view them as your teammate. Approach the project through a collective lens and choose a remodeling professional who helps you both feel confident in your design, selections and the result.