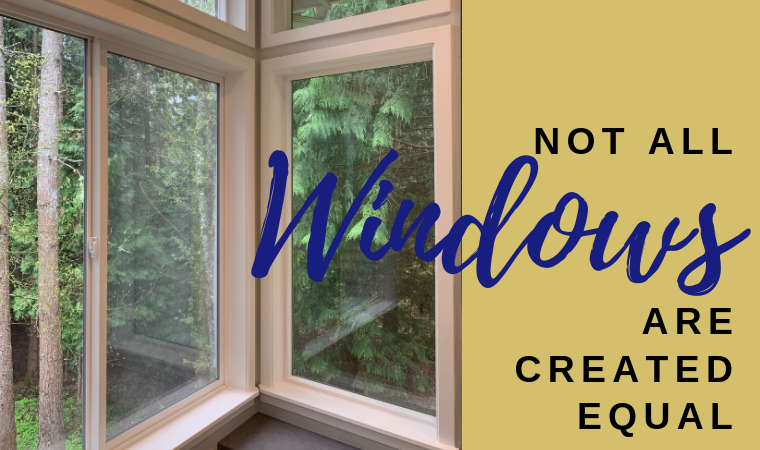 Not All Windows Are Created Equal
Replacing your home's windows can improve the energy efficiency of your home and improve curb appeal. However, before you run out to purchase, be sure you know your facts. Below are some tips we received from our preferred window vendor Dave Cromwell of BMC West to help guide you. With over 30 years in the industry, he's a fountain of knowledge.
How do I know it's time to replace my windows?
Dave: We see most replacements come from consumers with aluminum framed and single-paned windows. If your heat bills are high or you notice a draft when sitting near windows, it could be time to go shopping.
What should I look for in new windows?
Dave: Any new window purchase should include consideration of the following:
1. Choose an energy efficient model
2. Determine what look you want for your home, including the color of window frame, shape, size and if you'd like a glaze
3. Establish your investment range
4. Decide on the length of time you intend to stay in the home
5. Research glazes and textures for areas that requires additional privacy
6. Are there problems you're looking to solve, like airplane noise?
Do I need a permit to replace windows?
Dave: Not if you're replacing windows in the same size. If you're putting in a window where there wasn't one before or if you're increasing the size of your window opening, you will likely need a permit. Check with McAdams Remodeling & Design on permit requirements for your city and project.
Are all window brands equal?
Dave: Definitely not. However, we recommend window brands based on a variety of factors such as a client's budget, needs, home aesthetics and more. Many times I'll make a recommendation to a client on which window would fit their home best, but clients always make the choice.
How can new windows improve my home's energy efficiency?
Dave: Look for double-paned windows with a good energy efficiency grade. In addition, pay attention to the type of glass that's being used, Low-e glass helps improve energy, ensuring letting heat in during the winter months and letting heat out during the summer.
Are all windows now double-paned?
Dave: Most windows on the market today are double-paned. If you're not sure, just look at the window you're considering, the two panes of glass should be visible.
Should I spring for a triple-pane window?
Dave: In the Pacific Northwest we don't typically experience extreme temperatures in any season, so I wouldn't recommend the additional cost that triple-pane windows require.
Does it matter who installs them?
Dave: Yes. Like any home improvement project, it's smart to only use licensed and bonded contractors, like McAdams Remodeling & Design. If you're just putting in new glass versus a full new frame, consider using a professional glass glazer.
What type of frame material (vinyl, composite, fiberglass or wood) is right for me?
Dave: It depends on the budget you have, the look you're going for and the home you have. Most of the windows we sell are vinyl, but there are situations where we'll recommend a fiberglass or metal-clad wood window to clients.
Should I also ask for a window coating or a specialty glass?
Dave: A tinted window coating is recommended in some circumstances such as when a home is near water and will get a strong glare or heat reflection. We also recommend privacy glass in bathrooms or other areas where privacy is desired. Tempered glass may be recommended for certain locations, like a front door, for safety purposes.
What kind of warranty should I expect?
Dave: These days you can expect a limited lifetime warranty with most windows on the market. If you purchase painted windows, the warranty terms can vary a bit.
Other tips?
Dave: These days, window frames come in a variety of shapes, designs and colors to complement your home style. Gone are the days where white or black were the only color options available. Plus, each manufacturer typically has a unique lock, crank or slide style, so this can be an area that drives many consumer decisions on which brand to choose.
Final Words from Dave…Be sure to match the quality and style of windows to your home. With summer weather in full force, now is the time to contact us about replacing the windows in your home.