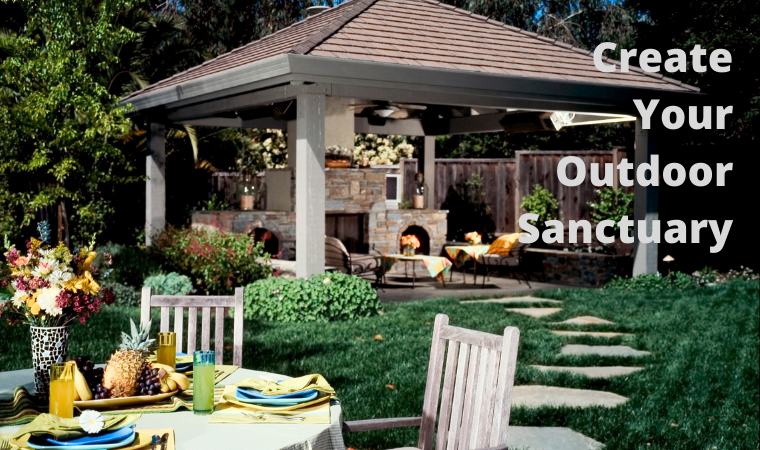 Create Your Personal Outdoor Sanctuary
Who isn't looking for a little more comfort and solace these days? Creating your outdoor sanctuary at home is not only smart, but necessary.
First, consider what makes you feel calm and relaxed. Is it flowers and greenery, or would you prefer a sofa and fireplace? Once you've determined what direction to take, you can start establishing which other elements are important. We think the following components make for a little peace:
Rain protection – short of sitting outside in a full rain suit during the fall, winter and spring, most outdoor sanctuaries in our area will need a covered deck or patio. Often our clients choose to install skylights in these covers so that the nature above isn't totally hidden.
Comfort – select a great seat. Whether an outdoor sofa, comfy chair or something else entirely, you aren't going to spend much time outside if you're not comfortable. Think washable cushions, pillows, etc., and add side tables and a foot stool for optimal use. Consider if a hot tub or sauna are high on your wish list and whether your space will allow for one.
Warmth – though our climate is more temperate than some parts of the country, it still gets cold and very wet. A firepit, fireplace or heater will ensure you'll be able to use your outdoor sanctuary regardless of the season or time of day.
Beauty – having an attractive space is integral to wanting to retreat there. Lots of foliage and flowers along with aesthetically pleasing furniture can help you create that space. Love to hear running water, but don't have room for a pond and water feature? Consider putting a fountain in your space. Even a small one will make a big difference in creating a soothing sound that helps you relax.
Finally, light it appropriately. Creating a functional and beautiful outdoor sanctuary provides an additional room in your home to use on a regular basis. See some of the outdoor living spaces we've created for clients.