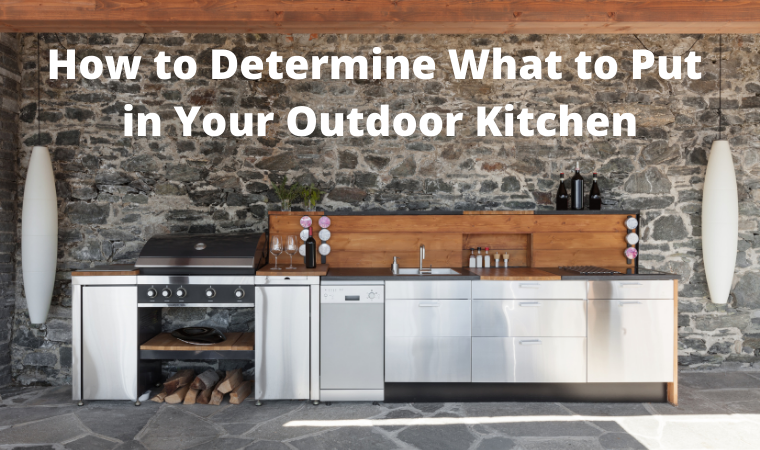 How to Determine What to Put in Your Outdoor Kitchen
We can all attest to the value of utilizing every last inch of your home and yard. If adding an outdoor kitchen to your patio is part of your remodeling plan, here are the things to know:
Evaluate what components you'll use most often. It's easy to get carried away so we like to ensure clients really consider which components, like a grill, are must-haves and which are not. Some clients opt for a sink, for example, while others are fine washing up in their inside kitchen.
Work with your yard's natural elements. Do you have features you'd love to highlight, like a pond? This is a great way to show them off while creating a cohesive home and landscape design.
Determine your storage needs. Is it imperative you have a refrigerator outside? Would you like to keep your grilling tools with the grill? These decisions can drive how many drawers and cabinets are needed to have you cooking efficiently. Also consider how much counterspace you'll need for meal prep, or for buffet service if that's your preference.
Establish your structural requirements. In the PNW, an overhead structure is great to keep an outdoor kitchen functional year-round, and the cook dry! Our clients often opt for a covered patio large enough to encompass the cooking area as well as an entertaining space for themselves and a few friends. It typically ties into the home's roofline and compliments the home design as an added "room."
Highlight with light. Cooking in the dark won't get you very far. Properly placed lighting will ensure you can see your work surfaces while helping to set the mood. Don't forget walkway lighting, especially if there are steps or uneven ground.
Heat up or cool down. Built-in heaters for the winter and a fan for the summer will help keep your outdoor kitchen a comfortable place to be. Consider a central fire feature for warmth and ambiance regardless of the season.
Hear music all the time. An integrated sound system is a nice addition to an outdoor kitchen and entertainment space. It can be more costly to add after the fact, so be sure to bring it up while your electrical plan is in development.
Putting in an outdoor kitchen can be a treasured part of your home's overall design. Developing a well-considered outdoor kitchen is not a quick process and requires a knowledgeable construction partner and a solid design plan. Let us help you create the outdoor kitchen of your dreams.