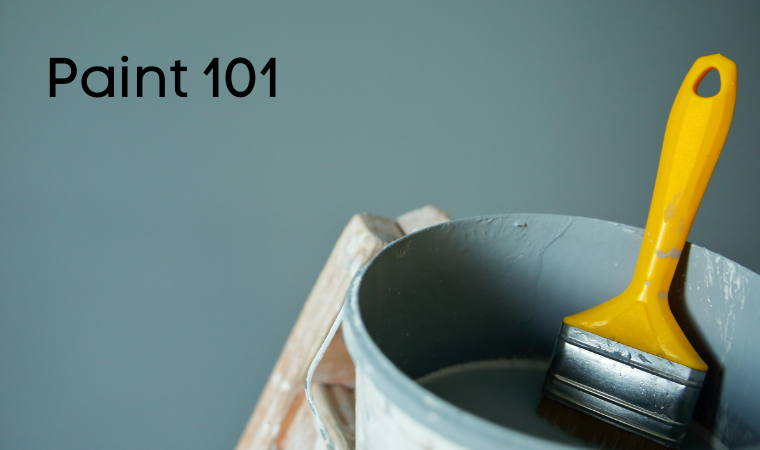 Paint 101
If you're interested in repainting the interior of your home, you may be confused as to which paint finish to choose. It's hard enough to choose the right color, so we want to help demystify your choice of finish options.
Flat – this finish doesn't reflect light, nor does it have a sheen. Choose a flat or matte version if you're looking to hide flaws in low traffic areas or on ceilings. Think twice before using it in high traffic areas as it's hard to clean and will show wear.
Matte – similar to flat paint but with a little more reflection, matte options are still forgiving but offer a bit more depth than a flat alternative.
Eggshell – aptly named, eggshell sheen offers some shine, but not as much as some alternatives. Ideal for busy families, you can clean it easily if small hands touch or draw on the walls. Know that over time this finish can start to show cracks or other imperfections.
Pearl – durable and easy to clean, this finish features a medium shine and is good for families. This sheen is often used in bathrooms and in kitchens, as it performs well in high humidity areas. The application will show lines or strokes if not done carefully.
Satin – a forgiving option, satin finish is good in doorways, window frames and other trim areas. It's durable, so it can be well suited for high traffic areas and may be a good choice for bathrooms since it's easy to clean and resists chipping. Higher gloss than eggshell, satin is great for areas that need high definition.
Semi-Gloss – similar to satin but glossier, semi-gloss is good for highlighting quality features in your home, like beautiful trim work, fireplace details or cabinetry. It is easy to clean and can be used in high traffic spaces as it's forgiving in nature.
High Gloss – shiny, like a mirror, high gloss is a decadent option for a classy look. Unforgiving on blemishes though, only use this in places where the materials are smooth.
In general, the glossier the paint, the more durable and cleaner friendly it is. Understand that as the gloss increases though, so is the highlighting of any imperfections. If you choose a darker paint color, you may want something in the eggshell to satin range so that the depth of the color can truly be appreciated.