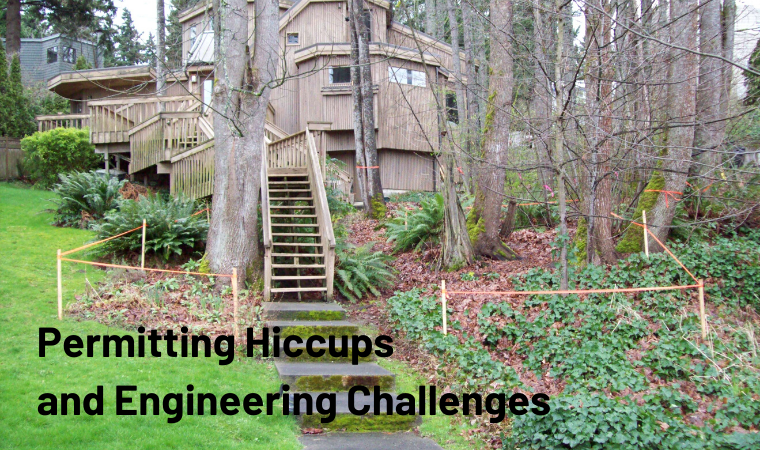 Permit Hiccups and Engineering Challenges
Getting a permit sounds easy, right? You fill out some paperwork, hire a qualified professional and the permit is yours. Unfortunately, it's often not that straight-forward. After 45 years in the industry, we've seen more than our fair share of challenges in obtaining project permits for clients. While you can request a permit yourself, it can be overwhelming and frustrating, especially if you're new to the process. As a full-service design-build general contractor, obtaining permits on behalf of clients is part of the service we provide. We educate our clients on the potential challenges and keep them updated throughout the process, though it's important to understand the process.
Most projects will require:
Time – it will take more than you ever anticipate. Each city, whether Redmond, Kirkland, Woodinville or Bellevue have their own process and schedule, and some are more involved than others. We can often set client expectations, but our experience is a little different each time because every remodel is unique and every home and lot pose their individual challenges.
Cost – can vary significantly. In our experience, these costs are going up as the cities are short-staffed and requiring homeowners to hire more specialty services to obtain a permit.
Plumbing – even replacing a water heater requires a permit. If moving the location of plumbing is desired, like changing the format of a bathroom, significant oversight is required to ensure that drain and sewer pipes are placed properly.
Electrical – similarly to plumbing, electrical permits are required for pretty much anything that makes electrical changes to a home. Especially if adding new elements, the load of an electrical box will need to be evaluated.
Fire/Sprinkler – most projects these days require significant upgrades for fire safety. Fire alarms are required in every bedroom and in common areas and interconnected, requiring additional wiring. A few larger projects have demanded a whole-house sprinkler system, which can be costly.
Some projects will require:
Drainage Systems – newer developments typically won't have this issue, but if you have an older home, it may require a drainage system/plan to be included to get a permit for a remodel or addition.
Tree Plan – adding onto a house that impedes, changes or wants to remove trees from a lot, may require a tree plan. We've had challenges obtaining permits if a potential addition is too close to the shadow line of a tree.
Permeability Tests – especially in the case of a large addition, putting more impermeable surfaces on a lot, like concrete, can change the ratio of permeable to impermeable surfaces leading to drainage issues.
While some of these issues only happen on some projects, with increased development, we're likely to see them become more common when obtaining a permit for a remodel.