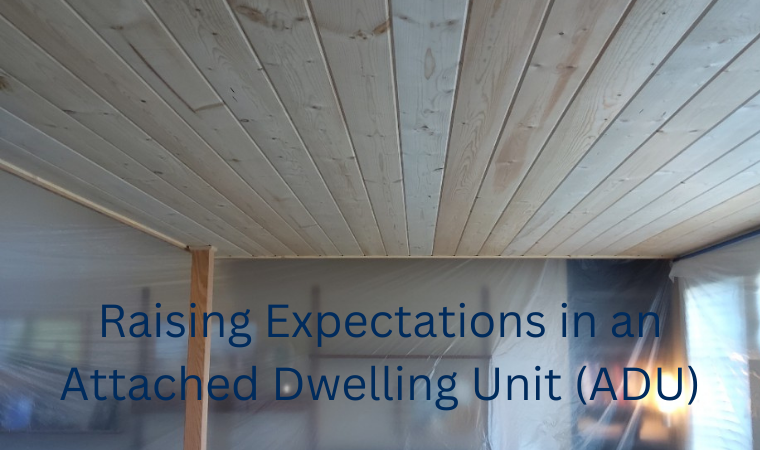 Raising Expectations in an Attached Dwelling Unit (ADU)
After a false start with another firm, our clients Jade and Terry partnered with us to do a kitchen remodel at their Woodinville home, as they found us to be a better fit for the full-service remodeling experience they were seeking. As a side project to the main house remodel, they decided to alter their existing ADU above the garage to better fit their needs. The roughly 500 square foot space had a combined kitchenette, living and dining space, along with a separate bathroom and laundry room. However, the space could not be fully used as living quarters because there was no place to put a bed without eliminating access to the kitchen and other areas. To make it more functional, it was decided to add a loft area that would blend in with the arched ceiling and also house a bed. The clients also wanted a home office workspace below the loft, along with access to the nearby built-in bookshelves.
After many conversations about what type of bed the couple desired and the look they were seeking, our Lead Carpenter, Chris Guempel, built a custom loft for the homeowners. He used a beautiful vertical grain fir since the loft would be very visible in the small space. The couple purchased a Scandinavian-style bed with a platform that allows guests to navigate around it for easier use. They also fell in love with the custom railing that Chris was able to incorporate into the design. The office space has a tongue-and-groove plank ceiling, also in vertical grain fir, which creates a cozy and attractive space. Finally, the loft was stained to match the kitchen cabinets, making the overall design cohesive and attractive.
This beautiful ADU will serve as an everyday office for Terry, while also offering guests and their college-aged son a private respite when in town.