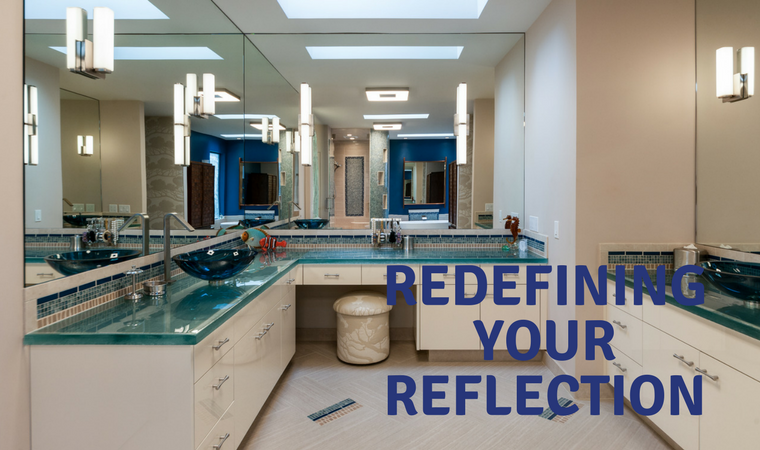 Redefining Your Reflection
Bathroom remodels start to feel complete once the tile's set, toilet has been placed, and the vanity is in. Don't underestimate the value of your bathroom mirror to complete your newly remodeled space. Choosing the right one though can be a bit of a puzzle. Here are some tips we recommend:
Size it right. Choose a balanced look for your space. It shouldn't be larger than the vanity, rather the exact width, if you can, so that both will line up. Obviously, the exact size may be hard to find, which is why we prefer custom-sized mirrors. If exact sizing is not possible, consider one that is about 20-30% smaller than the vanity. For height, a mirror should reach a foot above and below the eye line of people using it.
One vs. two mirrors. If you have a large vanity, or one with two sinks, consider two mirrors, one over each sink. Even if there is one sink, but there is a large vanity area, you may find two mirrors to be an aesthetically pleasing option.
Sconces. If you're choosing to have sconces placed on either side of your mirror, we recommend a mirror that's 60-70% of your vanity size so that things won't look squished.
Wall-to-wall. Instead of choosing to use the vanity size as your guide, you can instead opt for a wall-to-wall mirror that that runs the whole length of the wall. This can really help make a space feel larger.
Framed or frameless. Frameless tend to be less expensive than its framed counterpart, plus, they can give off a more modern or contemporary feel. Framed versions are great choices if a more traditional look is your preference.
Alternate shape. For something different, you could choose a round or oval version that can bring a totally fresh and unique approach. We especially like this design in small spaces
Storage. Medicine cabinets can offer additional storage space with a mirrored front. Many times they can be inset into the wall so that the mirror is flush with the front of the wall as a typical mirror would be.