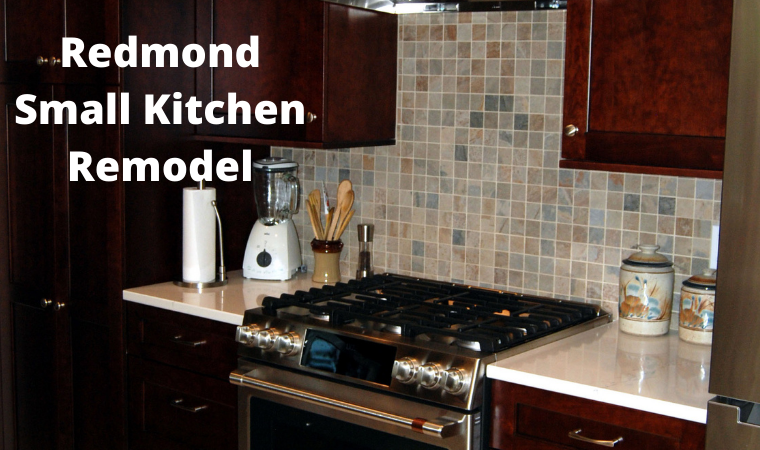 Redmond Small Kitchen Remodel
Soon after completing a laundry room project on Karen and David's home in Redmond, they approached us again to remodel their kitchen. Their kitchen was dated and had a large, bulky railing that bordered the adjacent sunken living room. The refrigerator overwhelmed the small space as it jutted out from the counter, and the only available space for the recycle and garbage cans was in the direct line of sight upon entering the home, creating quite an eyesore.
As a custom remodeler, we think it's fun to help our clients find solutions for their home and style that matches their personalities as well as their needs. In Karen and David's situation, they wanted a color scheme that complemented her favorite pieces of pottery, contained the needed but ugly recycling and garbage cans, and maintained or improved their storage. It was also important to them to functionalize how they used their small kitchen. David, the primary cook in the family, wanted special attention paid to where frequently used items were stored, which inspired the kitchen design.
The couple chose Design Craft frameless cabinets with a flat panel door style in Cherry wood with a ginger snap stain and ebony glaze. A beautiful quartz countertop from Cambria in Colton blended nicely with 2×2 Edimax Slaty porcelain tile in Ochre for the backsplash. The floor featured a 12×12 ceramic tile in AB02 Parchment, which coordinated with the backsplash and tied in their pottery colors. The bulky railing was replaced with a handcrafted oak wood handrail with metal balusters giving an updated, more open feel to the space. Karen and David selected a gas range from Café with a 30 inch stainless steel Zephyr hood, along with a counter-depth Bosch refrigerator featuring a cabinet panel. Newly refinished hardwoods give the kitchen and surrounding area a clean, beautiful, and functional aesthetic.