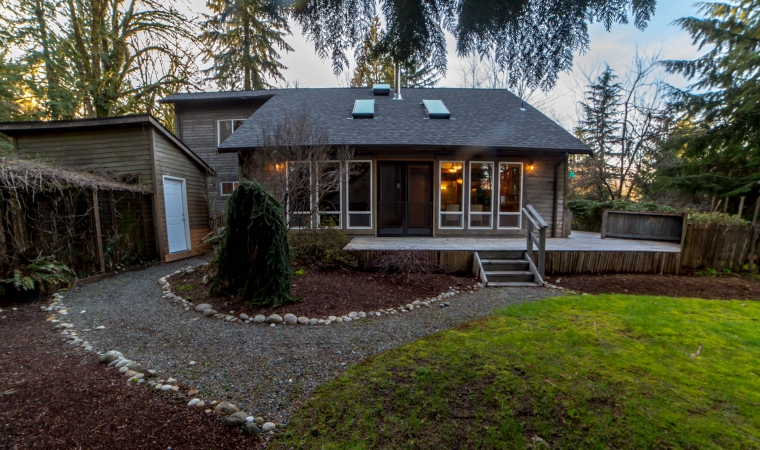 Reinvigorating a Duvall House in the Woods
After remodeling a newly purchased, unique Lake Forest home for our downsizing client Lee, she was ready to have her primary residence overhauled so that she could place it on the market.
Lee and her husband had built the Duvall home in the 1980's and had over 20 years of memories and laughter in the home. She also knew that after all that fun, the home was showing its age and wear and tear. She truly loved the home and wanted to bring it back to life for the next family to enjoy. Her main goals for the project were to address any safety issues, redo the worn areas, and allow the next owner to love it as much as she did. The home was structurally sound, and didn't require any fascia or siding renovations, but needed attention throughout much of the interior.
The home had hardwoods throughout, however, after years of cat ownership, had areas of damage and were generally in poor shape. The home, set deep in the Duvall woods,  required a crawl space clean up after a previously unknown entrance allowed for critters to enter and exit at their leisure. Her appliances were dated and needed replacing and much of the wood in the home needed to be shellacked to bring out the once lustrous color.  Also, since the home was built in the 1980's, some structural changes would be beneficial so that the property was code-compliant. There were some inherent logistical challenges for material deliveries and on-demand project needs due to the woodsy location, but a landline helped our team stay in touch with the office and trade partners more easily.
Since Lee had worked with us on a project already, she trusted Sales Manager, Mark Jensen and Job Manager, Rich Lockhart explicitly. Therefore, she communicated her budget, expectations and desire to see the finished product, but otherwise, asked to not be consulted. This style, while unique, allowed her to limit the emotional toll the changes would have on her memories. For Mark, his approach was simple: "I wanted to honor the home's original look and feel. I wanted the changes to complement the existing character for resale purposes and I felt incredibly trusted by Lee and the freedom she allowed to make selections appropriate for the space."
The newly remodeled kitchen contains all-new stainless steel appliances and beautiful Alder cabinets. Laminate countertops complement the newly refinished hardwood floor. The wood ceiling, walls and railing were clear shellacked for a refreshed and eye popping feel. A new heating system and new electrical switches, plugs and fixtures brought the property up-to-date. Lynn chose warm palette colors with neutral accents, rather than a real estate beige for the wall color transformation.  A new small side deck, allowed for safe entrance to a hidden courtyard, perfect for relaxing on a lovely spring day.
The project took roughly four months for design, selections and construction and was especially efficient for a whole house remodel since we didn't have to work around an in-house occupant.  At the final walk-through, a nervous Lee was thrilled with the results. "I am very happy with the remodel of my Duvall house. McAdams has done a spectacular job and the house shines…This is the second large remodel that McAdams has done for me, and I would never ask anyone else to do a remodel for me," said Lee. While she'll be sad to see this much-loved home go on the market, she's happy that the next owner will be receiving such a beautiful and well-constructed space.
House Update: We're happy to report that her lovely home sold within 24 hours. Are you ready to add value to your home? Call us for a remodel today, or see more major remodels we've completed.