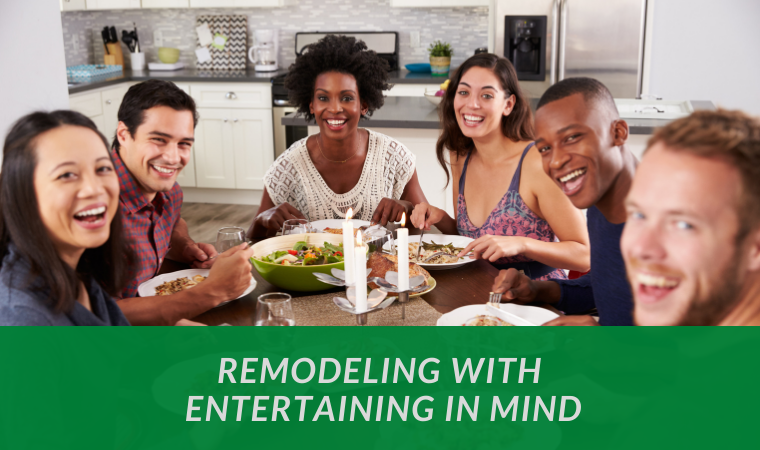 Remodel With Entertaining in Mind
If you love to entertain but your house design isn't conducive to it, consider some adjustments when you undertake your next remodel.
In the Pacific Northwest where rain is common, a covered front porch is ideal for keeping guests dry while they're waiting to be let in. Once inside, a small and cramped entryway can put a damper on a party before it begins. An ideal entryway is welcoming and somewhat open, and includes a coat closet as well an area to store guest's boots, gloves, etc. without these becoming an eyesore.
Once your guests are inside, kitchens tend to be the number one congregating spot for guests during a party. Not only is the host often finishing up food prep, but it is usually the spot for grabbing your favorite appetizer or beverage. Seats at an island counter can help with the flow of the kitchen, while also providing a comfortable spot for your visitors. A walk-in pantry is a must-have for a busy household and avid party host. Not only can it eliminate a cluttered countertop by storing small appliances, but you'll have enough space for lots of party food.
It is ideal for most entertainers is an open floor plan that can accommodate a number of guests while allowing for ease in mingling. An easily accessible powder room is key for ensuring guests are comfortable and should keep guest traffic contained within the main part of the house. If dinner parties are your jam, a large formal dining room is a must. It should be large enough to seat your preferred number of guests and have plenty of room for a sideboard to store dishes after serving.
If formal dining makes you twitchy, but the idea of throwing a Superbowl party sounds just right, you may want to consider ensuring your home has a recreation or family room up to the task. Plenty of seating and a wet bar can help make this entertainment option a success.
Finally, a great transition between your indoor and outdoor living space is perfect for optimal entertainment on a nice day as this can double your entertainment space. If you want to be able to entertain outside regardless of weather, a covered patio or deck is the way to go.
As with all remodels, we recommend our clients really think through how they use their home today and how they want to use their home tomorrow. We can help you create a home design that works for your lifestyle.