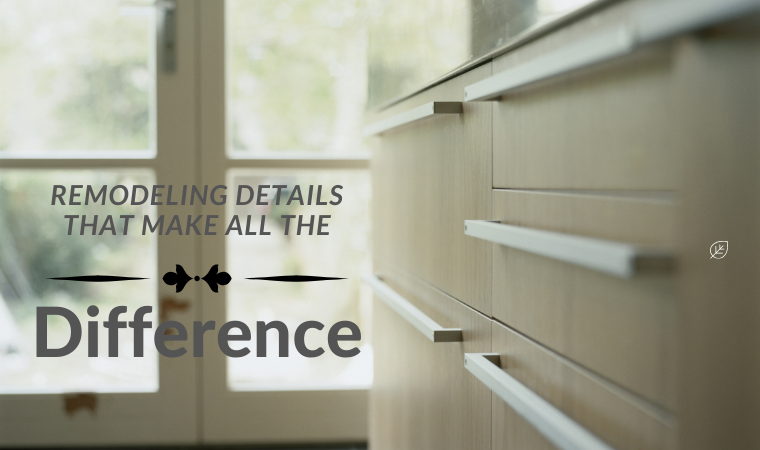 Remodeling Details That Make All the Difference
Sometimes the smallest remodeling detail can be the item most loved by our clients. Here are a few design recommendations that you may want to include in your next remodel.
Choose Matching Hardware. If you remodel one space and choose a different color or significantly different style of doorknob, lock or faucet for that room, you may be sorry later. Unless you plan to update all rooms to your new choice, you'll likely be happier choosing a similar hardware color and finish to the other areas of your home for a more consistent look and feel.
Opt for Soft-Close Cabinets and Drawer Glides. Gone are the days of wincing when a cabinet door is closed too hard or as you run into a door accidentally left open. With soft-close cabinets and drawer glides, the slightest push closes that door or drawer softly and completely.
Choose Custom Cabinetry Solutions Specific to Your Needs. Are you an avid cook who hates to search for spices? Select a spice cabinet that will display your spices for quick and easy access. Do you use a hair dryer every day? Choose a cabinet that has an interior outlet and a place to store it will reduce countertop clutter.
Go for Undercabinet Lights. You may think you don't need them, but when it's dark outside and you're chopping vegetables you'll be glad they're there. Appropriate placement of lighting is always important, but adding undercabinet lighting can provide the right amount of focused light on your task. It can also provide soft, ambient light, taking the place of a nightlight in the evening or early morning.
Dim Those Switches. Dimmer switches can help you set the mood you want in your home with little effort. Too early in the morning for full light? A dimmer switch will allow you to set the light at a level that allows you to see without the glare.
Opt for a Built-In Soap Dispenser. Although soap is available in small bottles, it can be just one more thing cluttering up the kitchen counter. Since it is used several times a day, a built-in dispenser will remove the eye sore while making it seamlessly available at your sink.
Clients who choose solutions specific to their lifestyle find themselves more satisfied after a remodel. It's one of the many reasons we love providing custom remodeling for our clients.