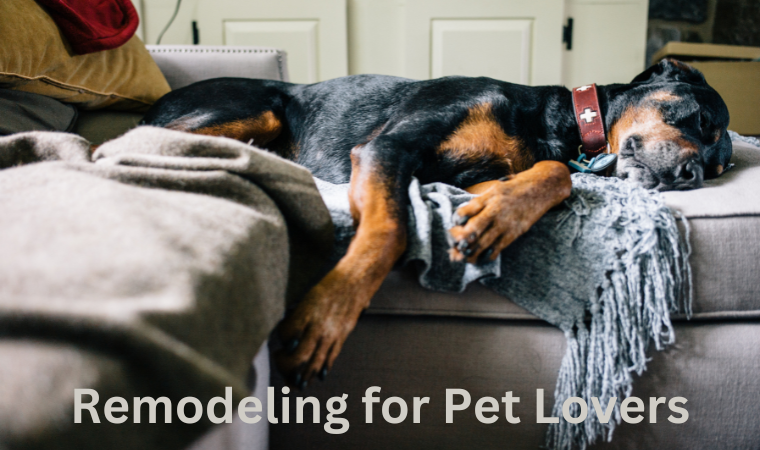 Remodeling for Pet Lovers
Whether you're a cat person or a dog person, avid animal lovers want their home design to be comfortable for their pets as well as for themselves and their lifestyle needs. So, if you're undertaking a remodel to major areas of your home, this may be the perfect time to include pet friendly elements. We think the top considerations are:
Durable flooring – when deciding on material, keep your pet in mind. Claws can have a bigger impact on some materials over others. We like tile, vinyl or laminate, depending on how concerned you are with damage. All of these will do well if Fido has an accident, whereas wood would be more of a concern if cleanup isn't addressed right away.
Heightened design – a swishy tail can be a sign of a happy pet, but when your favorite vase is situated at tail height, it's not so cute. Consider using higher than average cabinetry to avoid happy tails and solid wood cabinets that can withstand a little tail thumping.
Washable rugs – a puppy accident or muddy paws can sure make a rug look bad, and fast! Consider choosing durable fabric and/or washable versions for keeping your house looking its best.
Washing Station – if you have the room, a dog-washing station is ideal. If you don't, that's okay.  Consider instead a second, lower showerhead or hand-held version specifically for pet maintenance.
Built-in Storage – cabinets that house food, toys, and other pet necessities are perfect for keeping things handy while containing the mess. We even like a second sink or dishwasher that's primary purpose is for pet bowls and other needs.
There are additional design options to consider, like built-in pet beds, dedicated pet doors and more if you want to fully embrace a pet-friendly design. Give us a call to get started on your home remodel today!