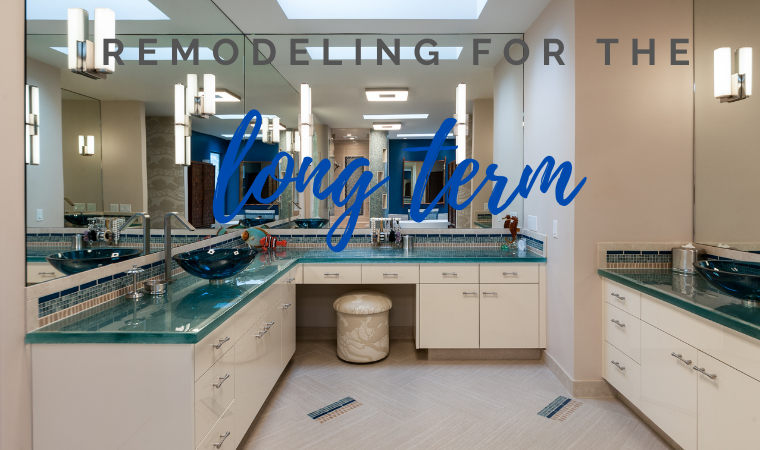 Remodeling for the Long Term
Just like financial planning is looking at your long-term financial goals, if you intend to stay in your home for the foreseeable future your remodel should encompass your current as well as your future needs.  The first step to ensure you are comfortable in your home for a long time to come is to develop a good plan using your abilities today while considering potential challenges going forward.
Main floor living – having a full bedroom and bathroom on the main floor of your home is an important design component for preserving the future use of your home. If for some reason it becomes difficult to traverse stairs, you can opt to move into the main floor space with little issue.
Accessibility – many design elements can fall in this category. Wide doorways throughout your home will allow for wheelchair access, if necessary. A curbless shower and a shower bench is great for someone with poor knees, hips or other challenges where managing steps or standing for long periods of time may be difficult. In many instances, our clients have opted to reserve space in their home remodel for a future elevator, should the need arise. Simple choices like selecting handles over knobs for faucets and doorknobs will provide for ease of use should functionality become limited as you age.
Safety – Motion sensor lights are easily installed and will help to avoid tripping over something in a dark room. Grab bars that match other finishes in the space can be installed in showers and around toilets. Avoid tripping hazards by choosing low pile carpeting or other continuous flooring options, such as hardwoods. Many of these design elements can be implemented in an understated, attractive way without being obvious to the untrained eye.