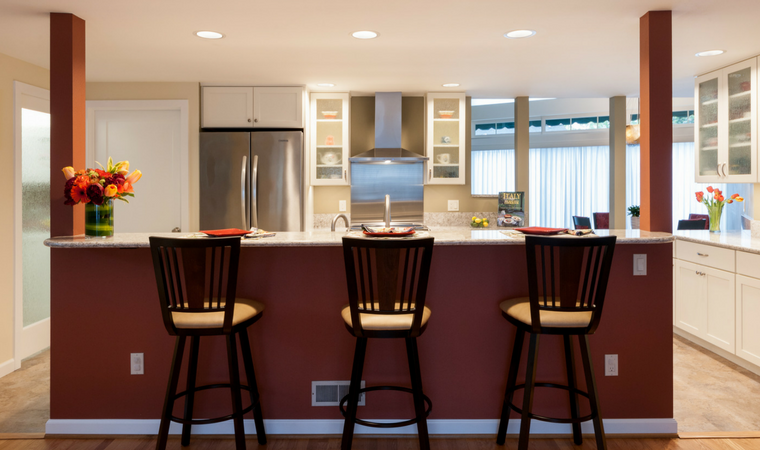 Remodeling With Intention
The Kabata family had lived in their home for 25+ years. They'd raised their family in it and intended to stay for the long-term. After having previously remodeled a bathroom and had all of their exterior siding replaced. Being a very practical couple, they'd waited to be fiscally ready to update the kitchen, thus it hadn't been updated since they purchased the home and it needed some TLC!
The existing space contained a galley kitchen with a three quarter wall that separated the kitchen from the living and dining room, but provided neither privacy nor the open flow they desired. There was limited cabinet space and the pantry room was open, giving guests a view of pantry clutter and kitchen storage. The sink faced a wall, so those washing dishes had no attractive view when performing this chore. Functionality of the space was basic and could be so much more.
Founder, Len McAdams worked with the Kabatas to create a kitchen that was beautiful, functional and fit their home and family. The kitchen renovation was to remain in the existing footprint, but included closing off the pantry and installing a door and creating an attractive kitchen for years to come. The new kitchen design contained beautiful white painted Maple cabinets, and featured rain glass doors to show off the Kabata's favorite dishes. A newly closed in pantry hid food prep items, but the inset rain glass in the white pocket door created a consistent stylish entry point. The lowered counter provides a better flow to the living and dining room and the sink and stove were swapped so those doing dishes can now look out the front windows and visit with those at the counter. The Cambria bar countertop has a unique eased edge, perfect for keeping their grandchildren safe. They selected an attractive vinyl floor tile for longevity and limited upkeep. New stainless steel appliances and stove hood were chosen and the kitchen walls received a new coat of Benjamin Moore paint in Georgian Brick and Olive.
The Kabatas think the transformation is pretty terrific. See more photos from the project.