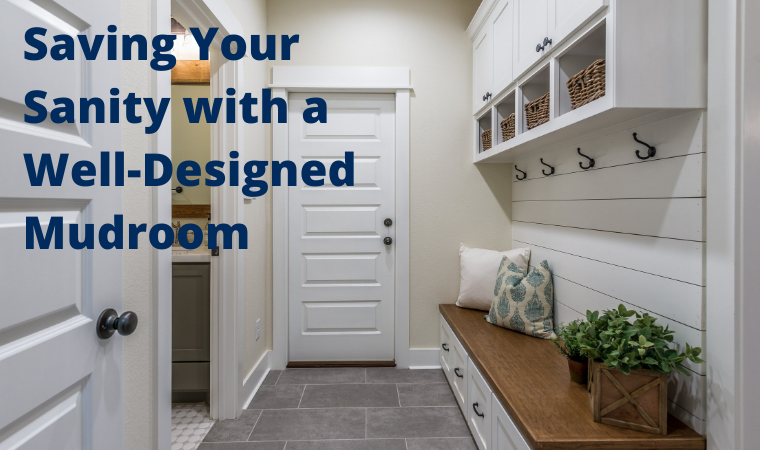 Saving Your Sanity with a Well-Designed Mudroom
Mudrooms are the place where your family enters or exits your home and serves as the transition area from outside to in. Ideally a mudroom is located between the garage and the house or even partnered with a laundry room for maximum efficiency. If there's room, we recommend choosing to have two doors to your mudroom- an exterior door to keep the elements out, and an interior one to keep the clutter in. Not only does this design conserve energy but it also keeps any mess contained.
Ample storage is the key to a truly effective mudroom for shedding wet or muddy layers while minimizing potential clutter. Hooks, pegs or another repository for jackets, boots and backpacks, and  bins for sunglasses, hats and mittens can keep your mudroom organized while keeping things handy for the daily grab and go. Designated spots for each member of the household will help curb the "I can't find my…" as you're heading out the door, reducing stress for busy families. It will also show who the messiest member of your house is rather quickly! We like to recommend a built-in bench or seat for  putting on rain boots, etc. It's also a good idea to set a limit on the number of shoes or jackets each person can store in this space to avoid having a large build-up of excess items.
Hardy, easy to clean flooring like tile or vinyl is a great option for a mudroom. Select a material that is moisture resistant and don't hesitate to use area rugs to help keep dirt and moisture from getting tracked through your home.
Other valuable elements for a mudroom is a utility sink and pet wash station, which will keep both kid and pet messes from getting spread throughout your home. Finally, choose lighting that makes this a happy, bright space.