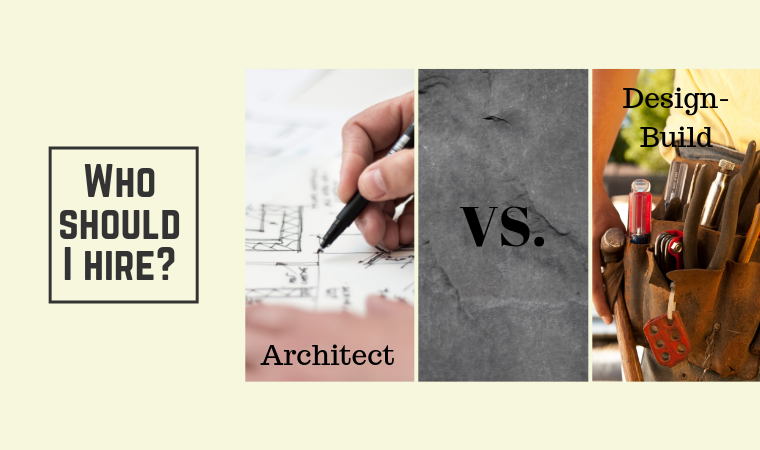 Should I Hire an Architect or a Design-Build Firm?
It used to be that if you wanted to undertake a significant remodel on your home, you needed to contact an architect, pay a large fee, and then shop your plans around to various general contractors in the hopes that you could find one that could build the design. The price tag of construction was often a surprise, and sometimes required going back to the architect for design adjustments (more design expense) so that the construction cost was within range. While there are still benefits of architects, often homeowners are better served working with a Design-Build firm to renovate their home. If you're wondering what the benefits of the Design-Build model are, here they are in random order:
Improved Accountability. The design is being created by the same people who will build it, reducing the disconnect between design, client goals and overall project investment.
Increased Speed. The whole process can be faster with a design-build firm than with an architect, because you don't have to shop plans around after settling on a design. You are already with your contractor, and built into their construction schedule.
Better Communication. There is no gap in communication between the designer and the project manager as they've both been part of the process the entire time. Concerns on materials or design can be raised during the process, eliminating surprises during construction.
Lessens Schedule Impacts. Long product lead time items can be determined early on, so that the timeline impact is minimized. If your design calls for a one-of-a-kind bathtub or specialty cabinets, your design-build firm will be noting those early on, so that the construction schedule is not impacted.
Construction Method Specialist. You're working with a team who can evaluate any tricky construction issues up front and eliminate a potential concern right off.
One-stop-shop. If you don't want to manage multiple resources, a design-build firm can be your one-stop-shop for all things remodeling related. They can help you with securing permitting, engineering and design needs, material selection and construction.
If you think the design-build process is right for you, read more about our process.