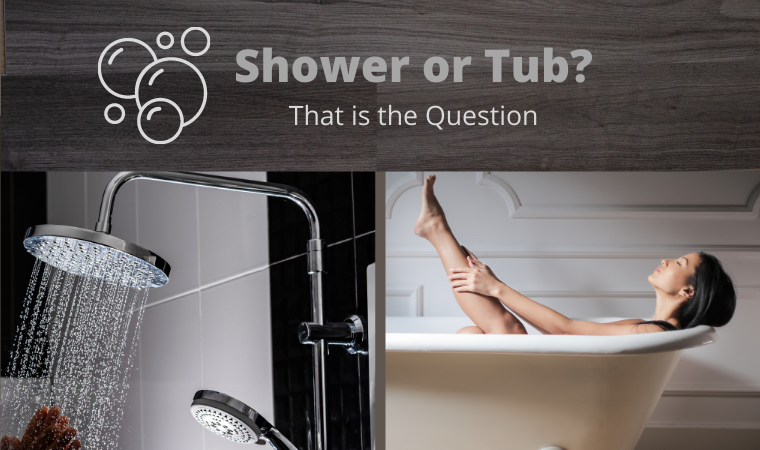 Shower or Tub, That is the Question
A line seems to have been drawn over the last few years between those who shower and those who prefer a nice soak in the tub. For those who prefer a shower, bathroom remodeling plans often remove the tub entirely, using this reclaimed space for a larger shower with multiple shower heads and body sprays. Tub lovers, however, prefer to put a large soaking tub up front and center in their bathroom design. We've found that those who opt for a tub also frequently consider the following elements:
Jets – a soaking tub can be wonderfully relaxing, especially if the model chosen has jets. Previously found mostly in spa environments, many of today's home models come with a jetted option. These can be great for working out sore muscles, or perfect for relaxing after a long day and maximizing comfort.
Fireside – what's better than having a cozy fire going while lounging in the tub or getting out of the shower? A bathroom fireplace is a beautiful and warm addition to a bathroom remodel. Often clients opt for a two-sided version that allows the fireplace to warm both the master bedroom and bathroom.
Entertainment – this can include surround sound speakers to listen to your favorite jam. Some clients include a television in their bathroom design for the ultimate relaxation experience.
Artistic – today's tubs are a work of art. You don't have to choose between striking design or function, instead today's consumer can choose a tub based on aesthetic preferences and materials.
Capture a view – have a view of the mountains or water, or a really pretty backyard? Take advantage of that view with a well thought out bathroom design that makes the most of whatever view you have. Don't have a view? Hang a beautiful work of art where you can appreciate it during a soak.
Luxe lighting – pick a statement pendant or chandelier to hang over your bathtub. Not only will it provide spot lighting for reading but will also look beautiful.
Today's bathrooms are a far cry from the solely functional space of years past. Create a design that's warm, comfortable and beautiful for the ultimate bathroom remodel.