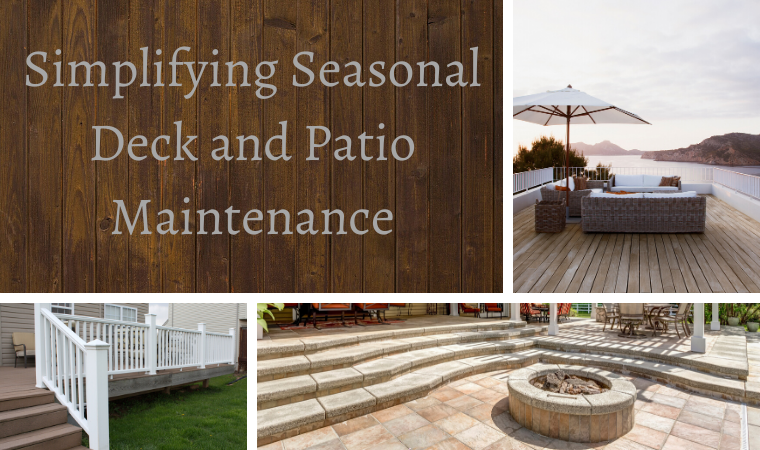 Simplifying Seasonal Deck and Patio Maintenance
We're in that sweet spot where it's raining less, and more sun is in our future.  Now is the perfect time to work on getting your patio and deck in shape for its most used season- summer! Depending on your deck and patio material, here are some ways the experts recommend getting outdoor surfaces ready.
Concrete patios are straight-forward where maintenance is concerned. Simply wash with a mild liquid cleaning solution, like a dishwashing detergent, and pressure wash to get the worst of the dirt. If you notice a stain throughout the year, address it immediately as waiting could allow it to set. De-icing salts can damage concrete in the winter, so find an alternative that will result in less damage and maintenance year-round.
Wood Decks should be evaluated thoroughly. Ensure the railing is strong and still serving well as a safety barrier. Also check for areas where water may be pooling and creating weakness. If there are rotting boards that need replacing, this is a great time to do so. Be sure to check for and clean out debris between the boards as often items can get stuck. If the wood looks fine, use a deck cleaning solution and your hose with a spray nozzle to remove dirt, dust, pollen and mildew that might have settled in. Pressure washing a wood deck is not recommended as the force of the spray could damage the wood and cause more problems. Cover any foliage prior to cleaning as some deck cleaners can be toxic to plants. Then, depending on how your boards are secured,  check for nail pops and nail them back down if need be. Also screw in any raised screws that might be a tripping hazard. Once you've washed your deck, give the material time to dry – usually 24 to 48 hours before applying the stain of your choice.
Composite Decking requires minimal maintenance, but there are a few things to note prior to starting. First, certain brushes may dull the surface of composite materials and some cleaners may not be good for some composite brands, even though the bottle may indicate otherwise. Always check with the manufacturer for preferred cleaners and if in doubt test in a small out-of-the-way area prior to wide-spread application. As with wood surfaces, ensure area foliage is protected as often the solutions may be toxic to plants.
In our opinion, sometimes the hardest part of patio and deck maintenance is removing all of the items on them in order to clean!