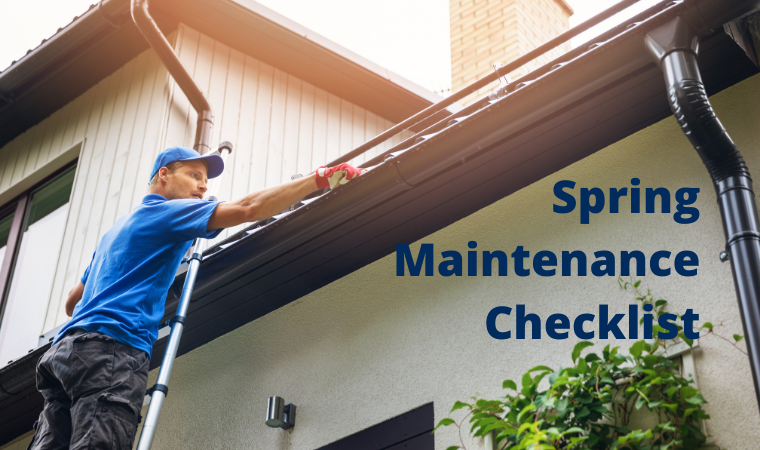 Spring Maintenance Checklist
The days are longer and the weather's nicer, so go outside and get going on these home maintenance tasks this spring:
Wash windows – With the sun shining, those smudges, dust and fingerprints are going to show! So get out the window cleaner and squeegee or hire a company to do it for you.
Have your furnace and A/C serviced – Now is that magical time where the heat isn't kicking on as much, but it's not warm enough for the A/C to be in use, making it the perfect time to have your HVAC systems serviced before temperatures rise.
Remove winter layers – If you've still got a down blanket on your bed, it may be time to lighten up. Likewise, switch out sweaters for short sleeved shirts, capris and shorts, so your closet reflects the warmer days.
Garden tool maintenance – Dull shears or blades can cause yard tasks take longer to complete than they should. Stay one step ahead of frustration by having your yard tools sharpened.
Spring clean the kitchen – When was the last time you cleaned out the refrigerator or went through your cabinets? Now is a great time to donate unwanted food items or toss those that are past their expiration date.
Check for bug infestations/nests – Bees make their nests in trees, plants, eaves and other unwanted locations around your yard. If you're seeing more bugs, especially around entrances to your home, you'll want to take a closer look and call in the professionals if there's an issue.
Check your house for seasonal damage – Snow, wind and rain can really do a number on roofs, decks, concrete and siding. Check around your house for damage that should be repaired while the weather is nice. Be sure to check for holes in window and door screens, and have them repaired or replaced if necessary so your family can enjoy fresh air without a side of bugs.
Clean out gutters and downspouts – Now is a good time to do a check for dirt and debris in your gutters and clean them out if necessary before the June gloom rainy season strikes.
Clean out your fireplace – Have your fireplace evaluated and the chimney cleaned out if necessary. Build up over time can have a big impact on how efficient your chimney is at clearing smokey air from your home, so staying on top of this maintenance is important for good air quality.
Have your HVAC system serviced – Just because your home gets cool doesn't mean everything is A-okay. We recommend staying on top of your A/C service schedule to get the best life from your heating and cooling system.
Check sprinkler and irrigation systems – These tools are quickly approaching their most used time of year. If you think your sprinkler or irrigation system is lagging or broken, it's time to have it checked out.